Beetlejuice's 30th Anniversary + Giveaway
We all know what happens if you say his name 3 times! Often referred to as a comedy classic, 'Beetlejuice (1988)' revolves around a recently deceased young couple who become ghosts and haunt their former home with the help of Beetlejuice, a devious and obnoxious ghost from the Netherworld.
Tim Burton's Academy Award winning film not only introduced the title character, but forever branded his garishly colored, surrealistic antics into the collective minds of moviegoers
This year, the "Ghost with the Most" is celebrating his 30th anniversary, so we thought it would be a great time to take a look back on our multitude of Beetlejuice products.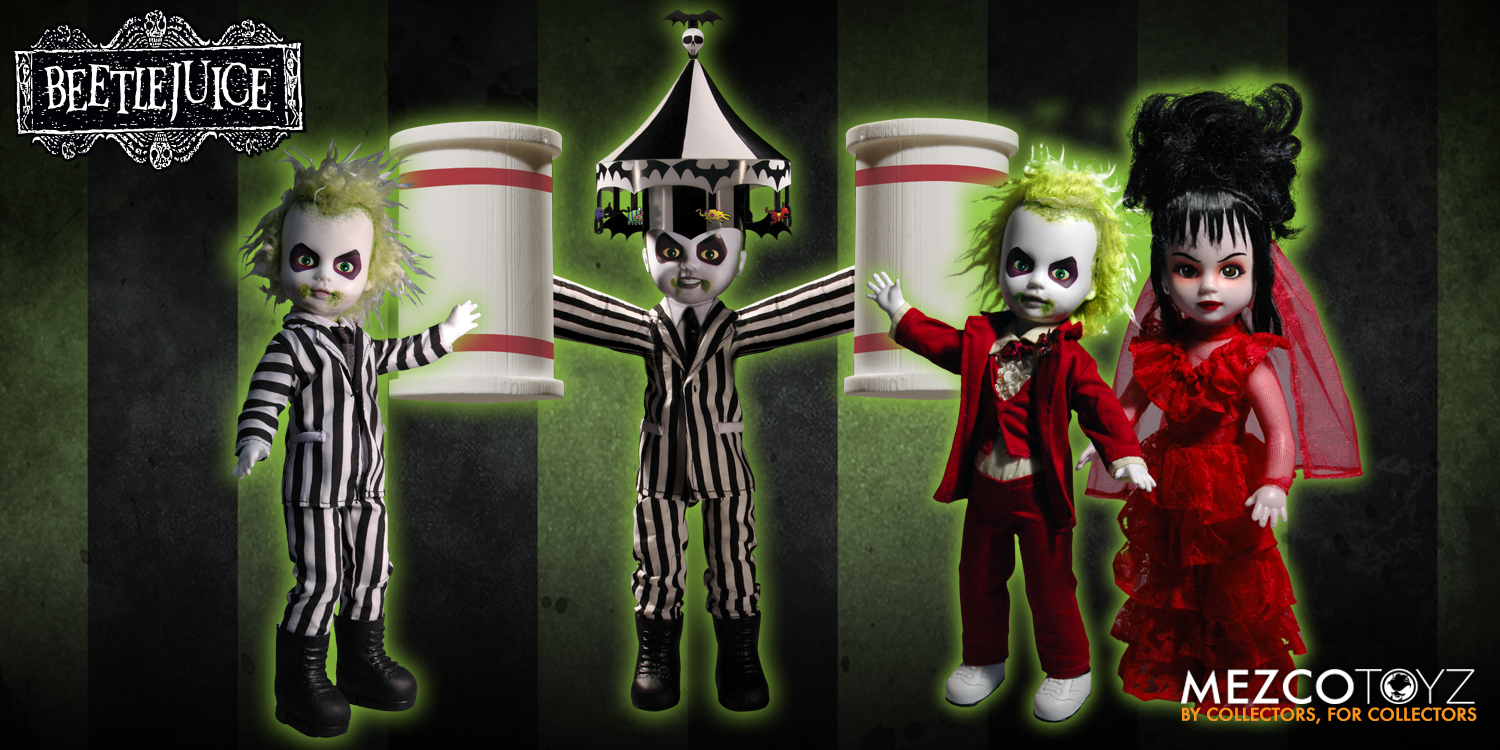 Beetlejuice was forever immortalized in a signature Living Dead Doll body, recreating his classic look from the film. This 10" doll perfectly captured the rogue ghost's "character" with his crazed eyes, wild hair, and mossy skin. An exclusive variant version was sold at Hot Topic, alongside Beetlejuice's bride-to-be, Lydia. Each doll came individually packaged and featured blood-red wedding attire: Beetlejuice in his dapper tuxedo and Lydia in her lacy gown.
The Living Dead Dolls revisited Beetlejuice with "Showtime Beetlejuice", recreating the iconic scene from the movie. This 10" doll featured elongated sleeves that could be unfurled. Once the sleeves were elongated, mallet heads could be attached to the ends.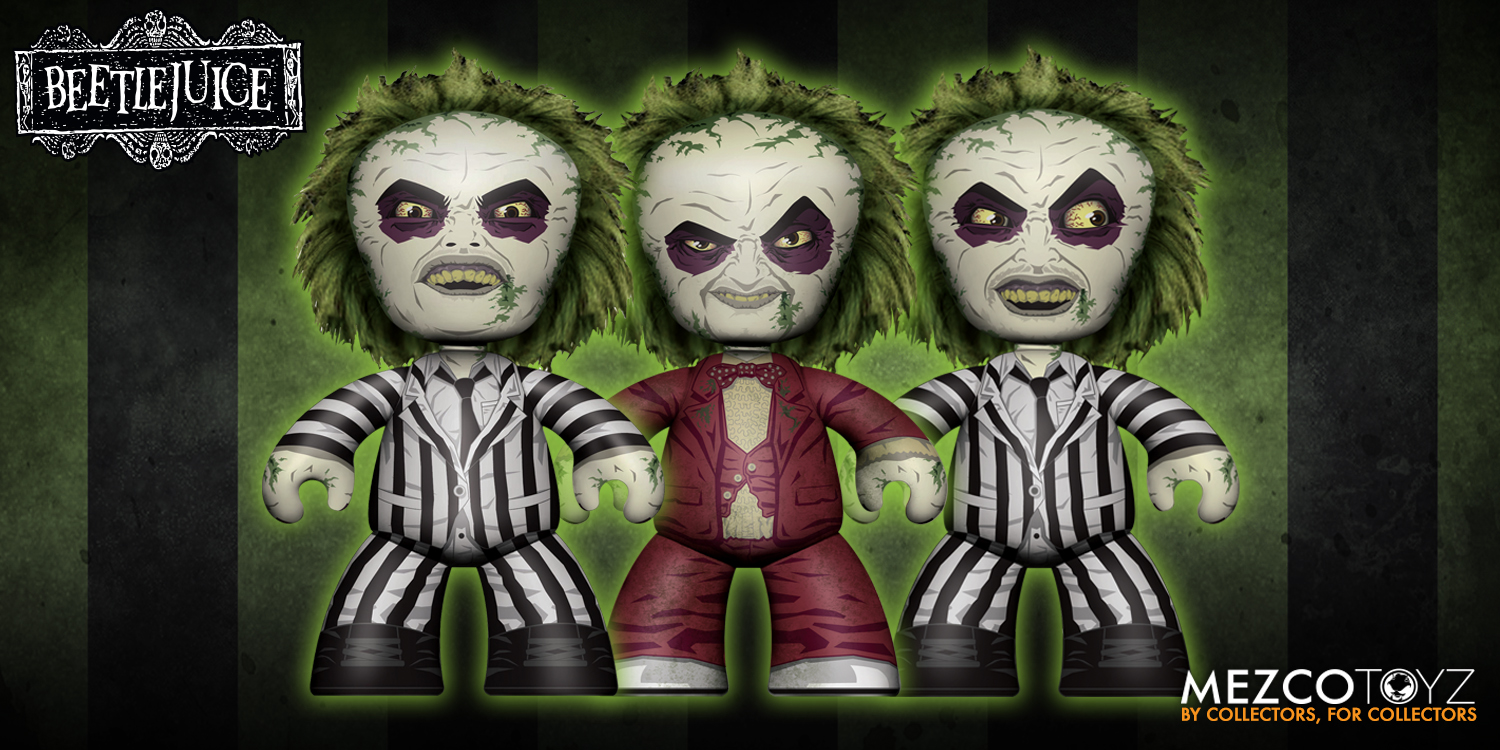 The afterlife's leading bio-exorcist was then transformed into a 6" Mez-itz figure, featuring a devilish grin and a sly side-eye.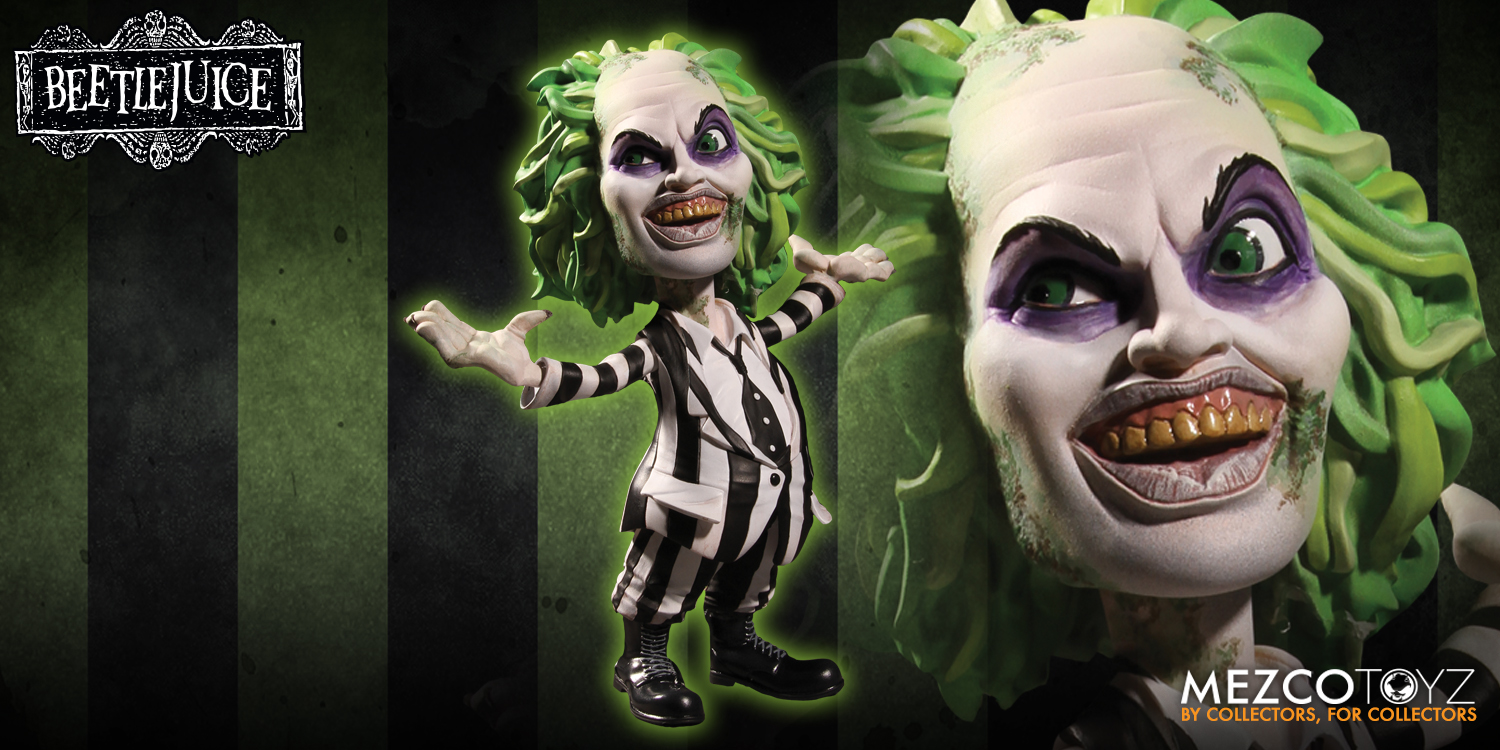 Mezco then gave Beetlejuice their signature stylized treatment with this 6" vinyl figure. The obnoxious apparition featured 8 points of articulation.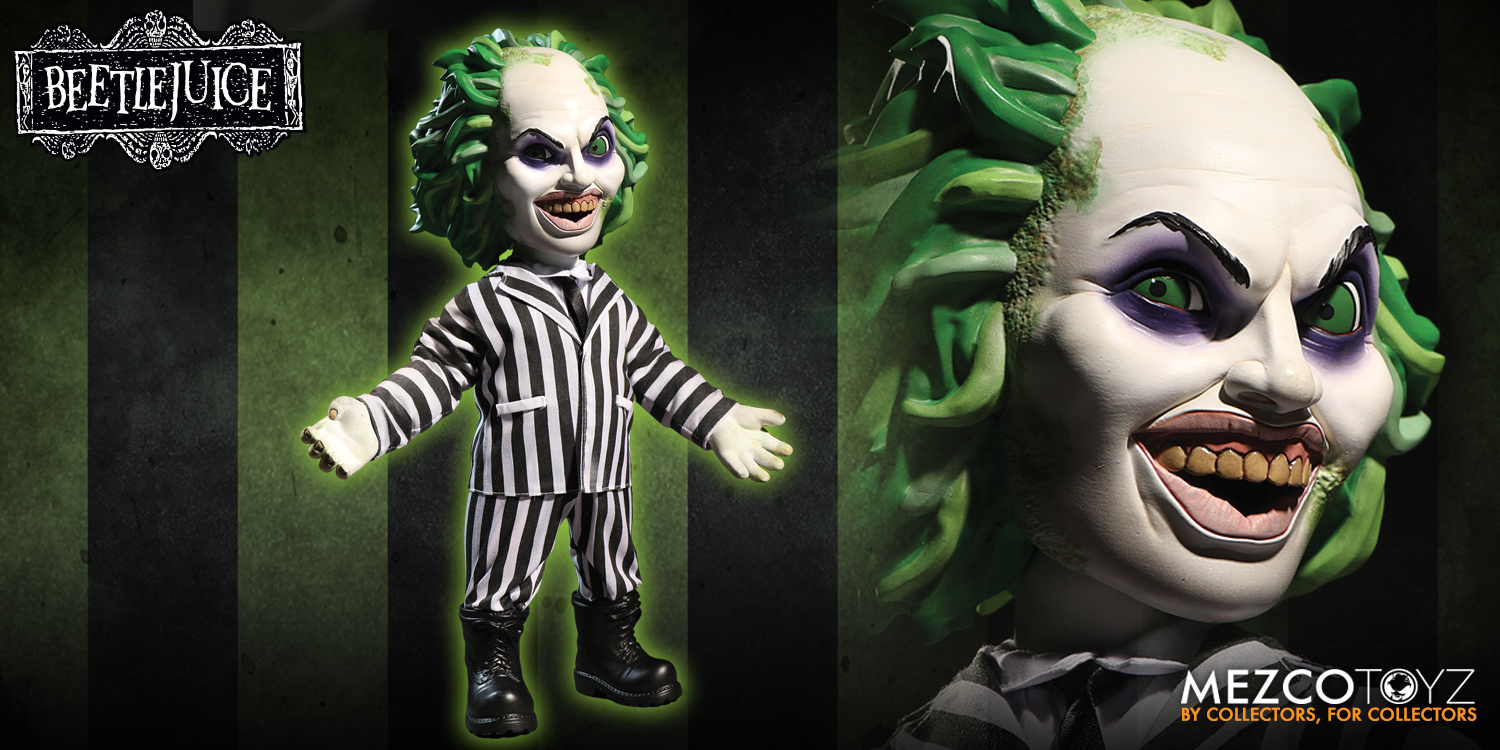 Mezco's most recent endeavor: a towering, 15 inch tall mega scale Beetlejuice. With 5 points of articulation and all his signature trademarks, he's the perfect blend of horrific hilarity.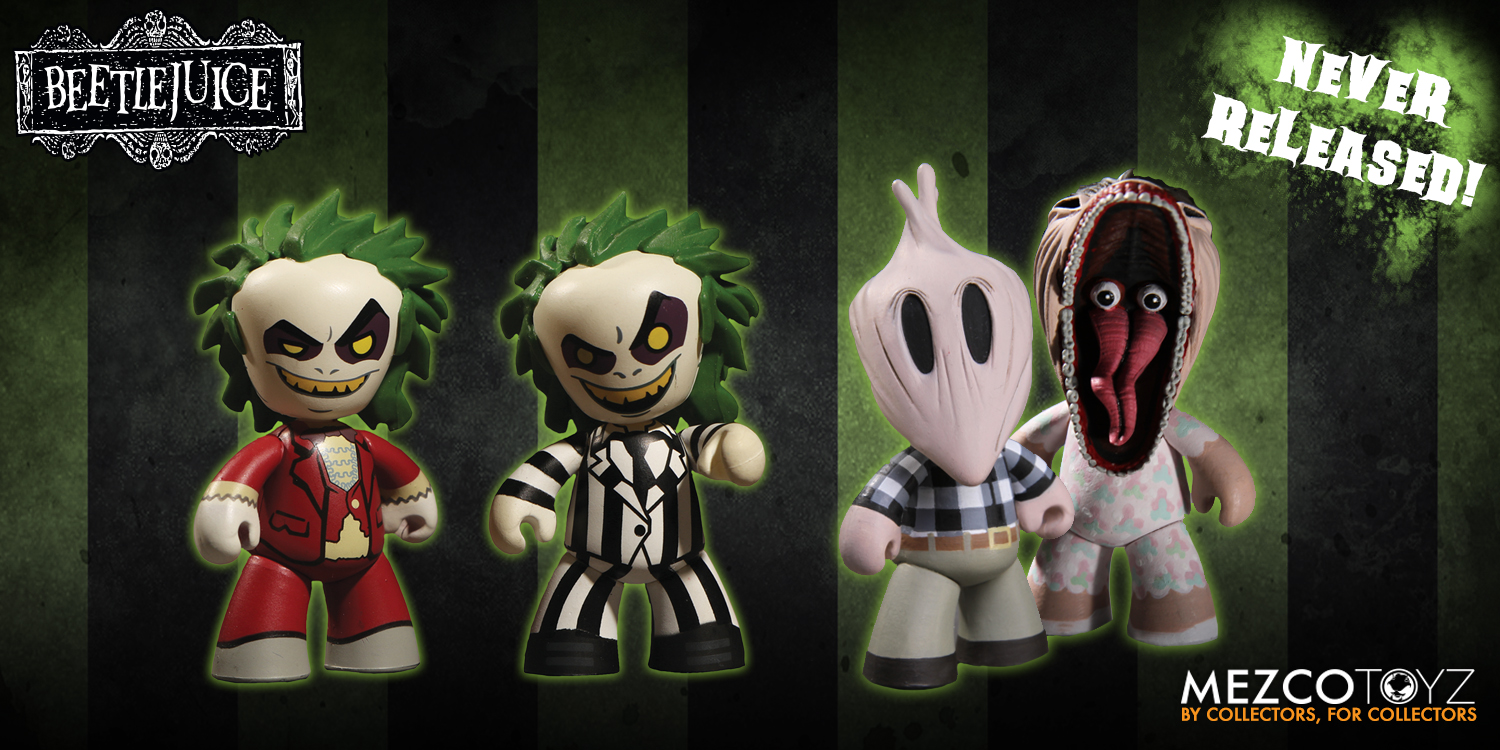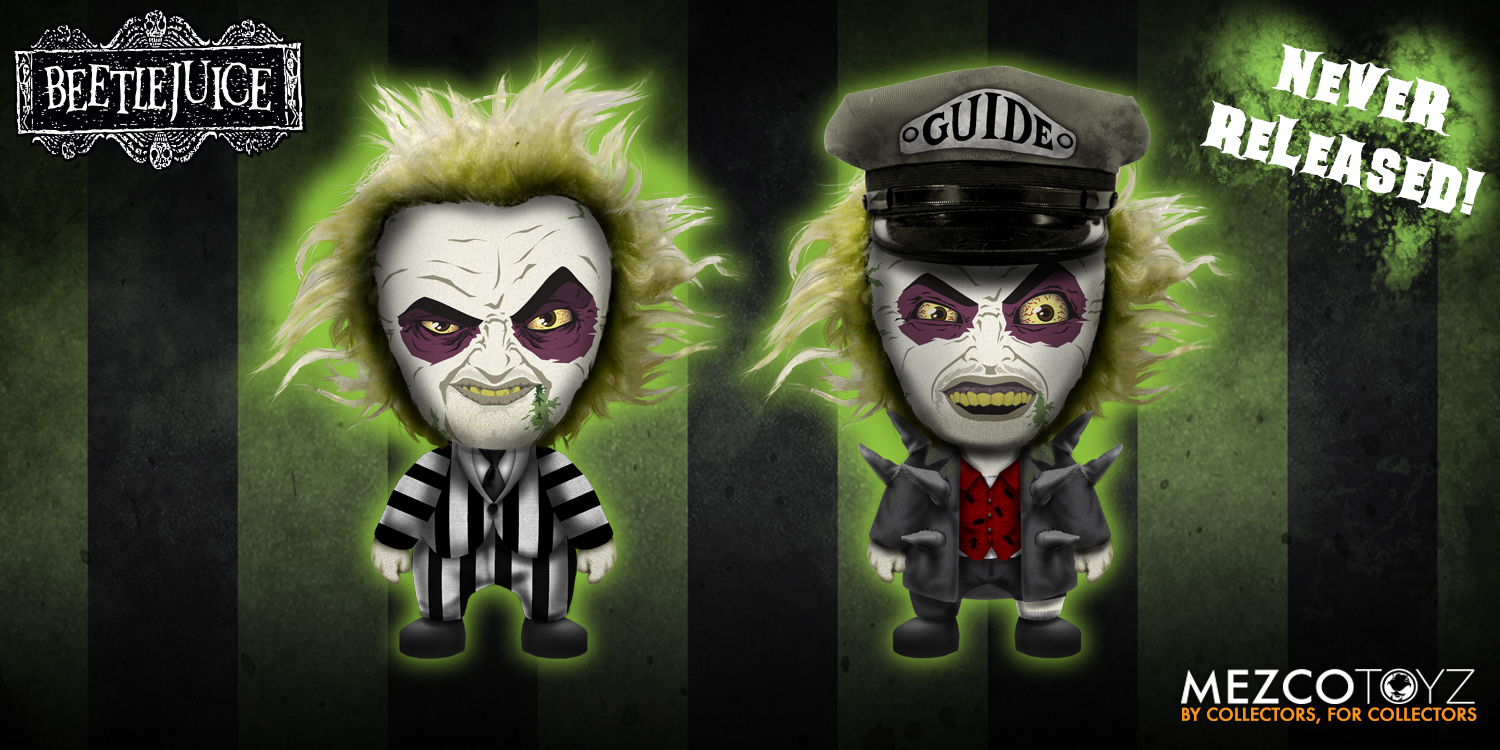 Deep in the recesses of Mezco's laboratory are some unreleased Mez-itz figures and plush, as pictured above.
With 30 years under his belt, Beetlejuice's jokes and antics have proven timeless and continue to resonate with modern audiences. In celebration of Beetlejuice's 30th anniversary, we'll be giving away a Mega Scale Beetlejuice and Stylized Beetlejuice to one lucky winner!
To enter the giveaway, click here.