Eric Powell Creator of The Goon Interview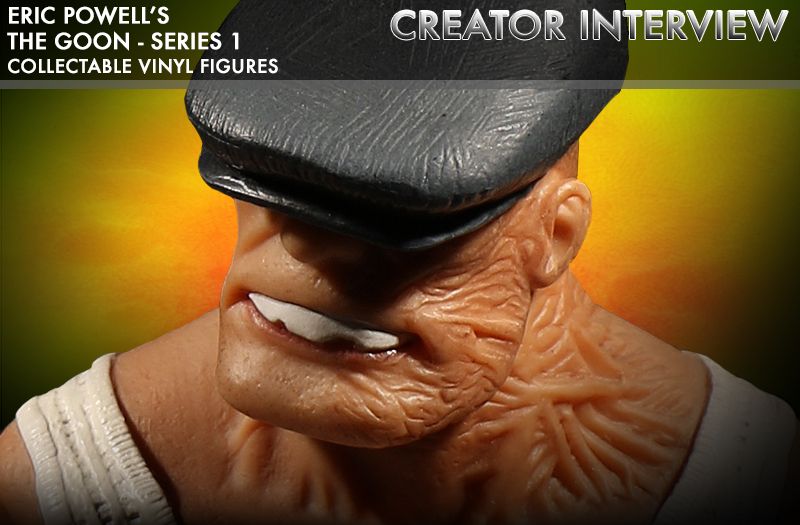 Eric Powell, artist, writer, creative powerhouse and the man responsible for bringing The Goon to life. The Goon has previously won the esteemed Eisner Award for Best Single Issue (Dark Horse The Goon #1) and aside from his fine work on The Goon Powell has extensive creative credits with other Dark Horse books as well as with DC and Marvel.
12 years ago Mezco produced a line of The Goon action figures and one of the many perks was getting to work directly with Eric on this line. Recently we took the opportunity to talk with Eric for our retrospective on our The Goon figure line.
Mezco: Hello Eric, you've been creating The Goon comics and his dark world since 1999. Can you tell us more about The Goon and the unique world you have created for him?
Powell: The Goon is a book I came up with so I could do anything I wanted to do and show off some of the things I felt I could do well that I wasn't getting the opportunity to show off in work for hire projects. The book is intentionally all over the place as far as its themes. Some issues are absolutely absurd humor and others are straight up crime and drama. I'm the first to admit it's a weird book.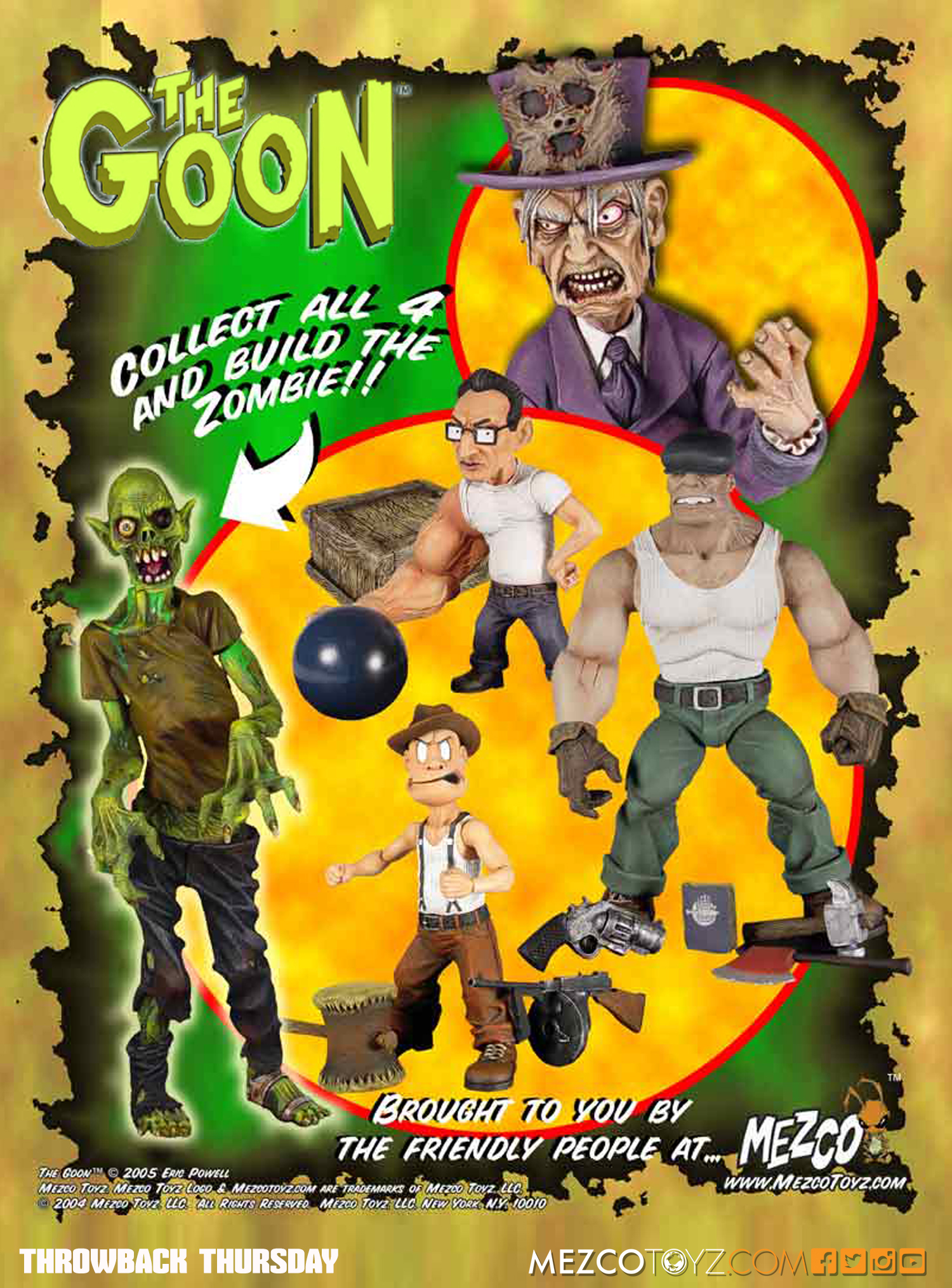 Mezco: Over the years The Goon's cast of characters has grown quite a bit. How much do you personally identify with these characters and which one do you most feel akin to and why?
Powell: I think you identify with all your characters somewhat. Even the ones who disgust you and who's actions are not necessarily nice. You have to understand what is motivating their actions or they can come off as thin caricatures. Of all the characters in the book, I think I identify mostly with Goon. Not that I'm a tough guy, but I do agree with doing the right thing when you can and drinking (responsibly, kids).
Mezco: In your bio it says you created Albatross Exploding Funnybooks to continue The Goon. What separated The Goon from other comics getting published at the time? What was different about it?
Powell: This was the 90's. Everything had robot arms, giant shoulder pads, and guns the size of a Buick. To say The Goon was different than most books being done at the time would be an understatement. But now the landscape is completely different. I don't think The Goon stands out as much because there are so many types of books being done. And this is a good thing. I'm happy to see the industry diversifying its content.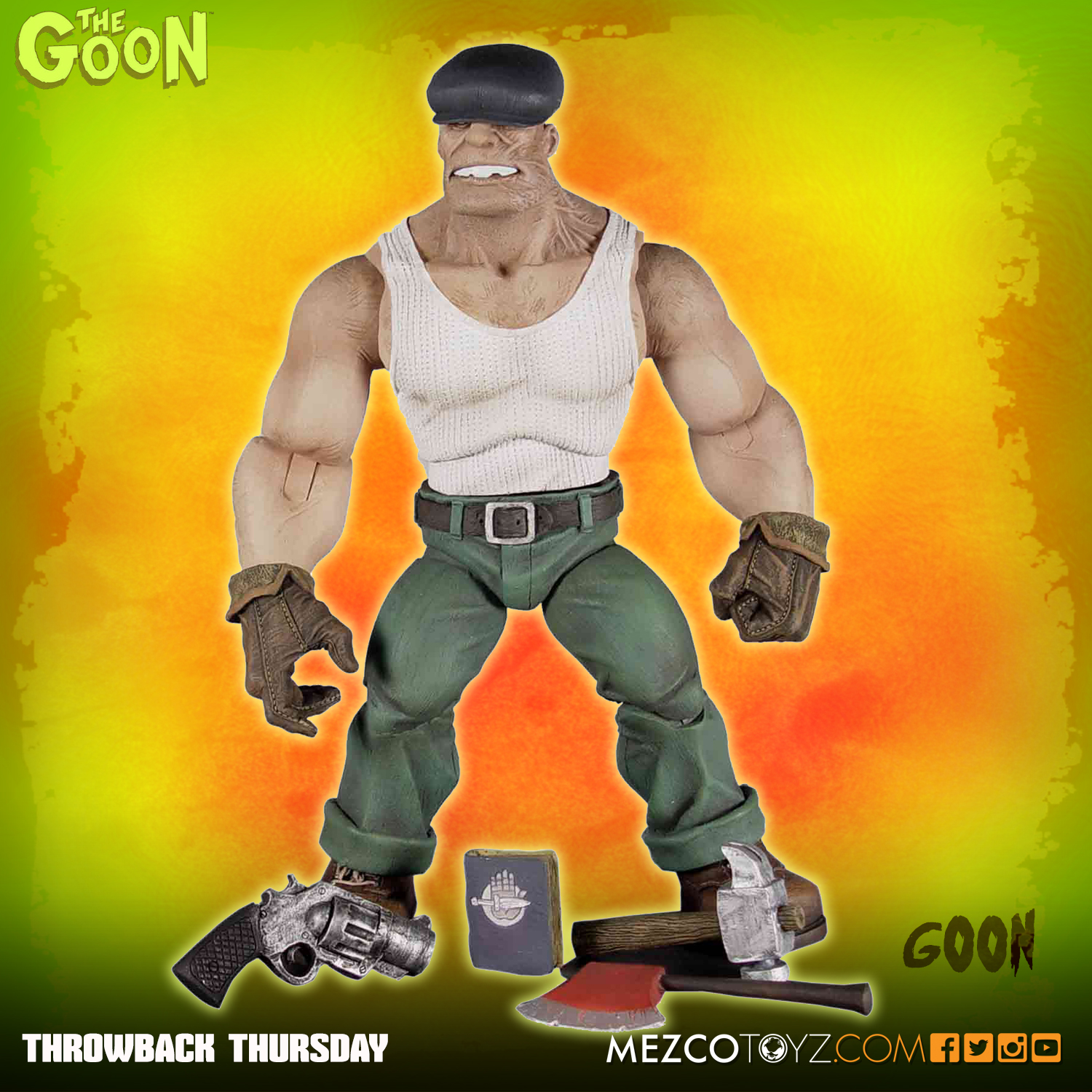 Mezco: The Goon has an extremely distinguishable style and tone merging Pulp Fiction noir and horror. Do you read pulp magazines. Were there other inspirations that influenced your work on The Goon?
Powell: Most of my inspiration for The Goon came from movies. Living where I did growing up, it was hard to get to a comic shop let alone be exposed to old pulp magazines. Lots of B horror movie stuff influenced The Goon. I ate it up when I was a kid.
Mezco: Here at Mezco we are all extreme collectable enthusiasts. Do you personally collect anything? If so what do you collect and what is your prized possession in your collection?
Powell: I collect original comic art. Although I tend to collect what I like versus what's valuable. But hands down my best piece is a page from the Outer Space Spirit by Will Eisner and Wally Wood.
Mezco: You have worked on a large number of books and characters. Can you tell us about some of your most memorable experiences?
Powell: Working on comics is actually way more boring than you'd expect, so I don't have a lot of memories tied to specific projects. Actually I discovered that working on established properties is kind of a let down for me. As a kid you always dream of doing the thing you're into at the time. "Wouldn't it be cool to one day draw the X-Men?!", etc. But when you actually get to do it, it's not what you expected. You wanted to draw the X-Men just like you remember it but that book and time doesn't exist anymore. To me, it felt like imitation working on company owned properties. It was much more fun to create something new.
Mezco: What is your favorite comic book character and why?
Powell: As a villain, I've always liked Dr. Doom. He always felt a little more complex that the typical comic villain. He's a jerk, but he has his own twisted moral code. I liked his combination of science and magic. But not really sure who my favorite character is. Too many to list a favorite.
Mezco: San Diego Comic Con is right around the corner. Will you be attending? If so where can fans find you and will there be anything you are going to have there that you can share with us?
Powell: Yep. Booth 2209. We'll have a couple of cool little exclusive items. People can keep an eye on my Facebook page for announcements - facebook.com/goonguy
Mezco: Any upcoming news or projects that you are able to discuss with our fans?
Powell: I'm still rolling full steam ahead with my new series, Hillbilly. And Albatross just launched a new series called 'Namwolf. The title is self explanatory. Also, We'll be launching a new book from Brendon Small, of Dethklok and Metalocalypse fame, called Galaktikon. I hope everyone out there will check them out!
You can learn more about Eric Powell's The Goon and more of his work here!