FedEx Delivery Manager: A Quick How-To

We've all been there - you finally get your shipping notification, your package is on its way...and you realize you won't be home for your delivery. You do not miss out on this package so you're wondering what your options are. Don't worry, we've got you covered.
FedEx offers an online service called FedEx Delivery Manager. With this service, you can receive alerts when a package is sent to you, sign for a package remotely, provide delivery instructions, request to hold packages for pickup, and much more.
Here is a helpful guide demonstrating how to use FedEx Delivery Manager.
---
Step 1 - Sign Up
Sign up for FedEx Delivery Manager by clicking here.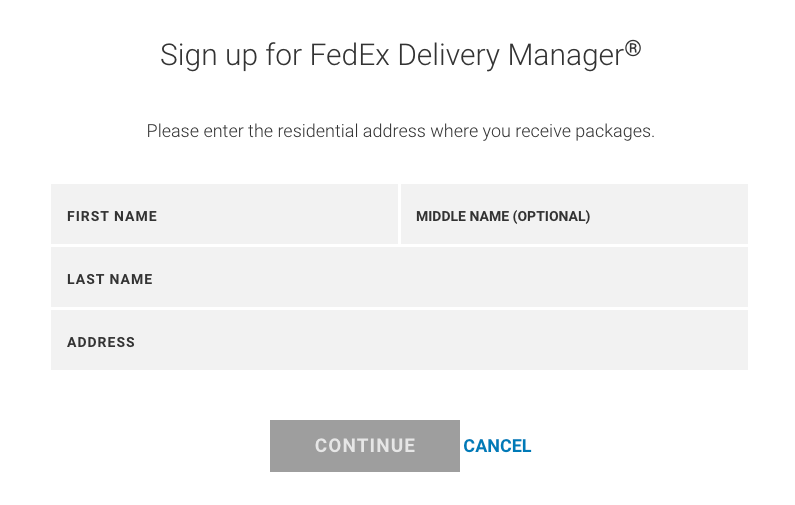 You'll be asked to enter your name, address, and create a FedEx username and password. FedEx will then ask you to double-check your address information as they will verify your registration by sending a code to the address you provided. It takes about 3 - 5 business days to receive this code in the mail. You'll then follow the instructions on the mailer to complete the activation of your account.
Step 2 - Finding Your Delivery
You can click this link to a see a list of all deliveries coming to the address you provided upon signup. From your list of incoming deliveries, you can click the one you'd like to customize.

Step 3 - Customzing Your Delivery
You can customize this delivery by clicking MANAGE DELIVERY under your address. You'll be presented with a list of options such as HOLD AT LOCATION, DELIVERY INSTRUCTIONS, VACATION HOLD, and more.


Depending on the option selected, you may need to follow some additional prompts such as entering your shipping address. Follow the prompts as instructed to complete your request.
You're done! It's that simple. We hope you find use in the additional features of FedEx Delivery Manager to help make your deliveries from Mezco a more seamless experience.
For more information, you can visit FedEx's quick help guide on FedEx Delivery Manager.