Gomez's Haunted Halloween Treats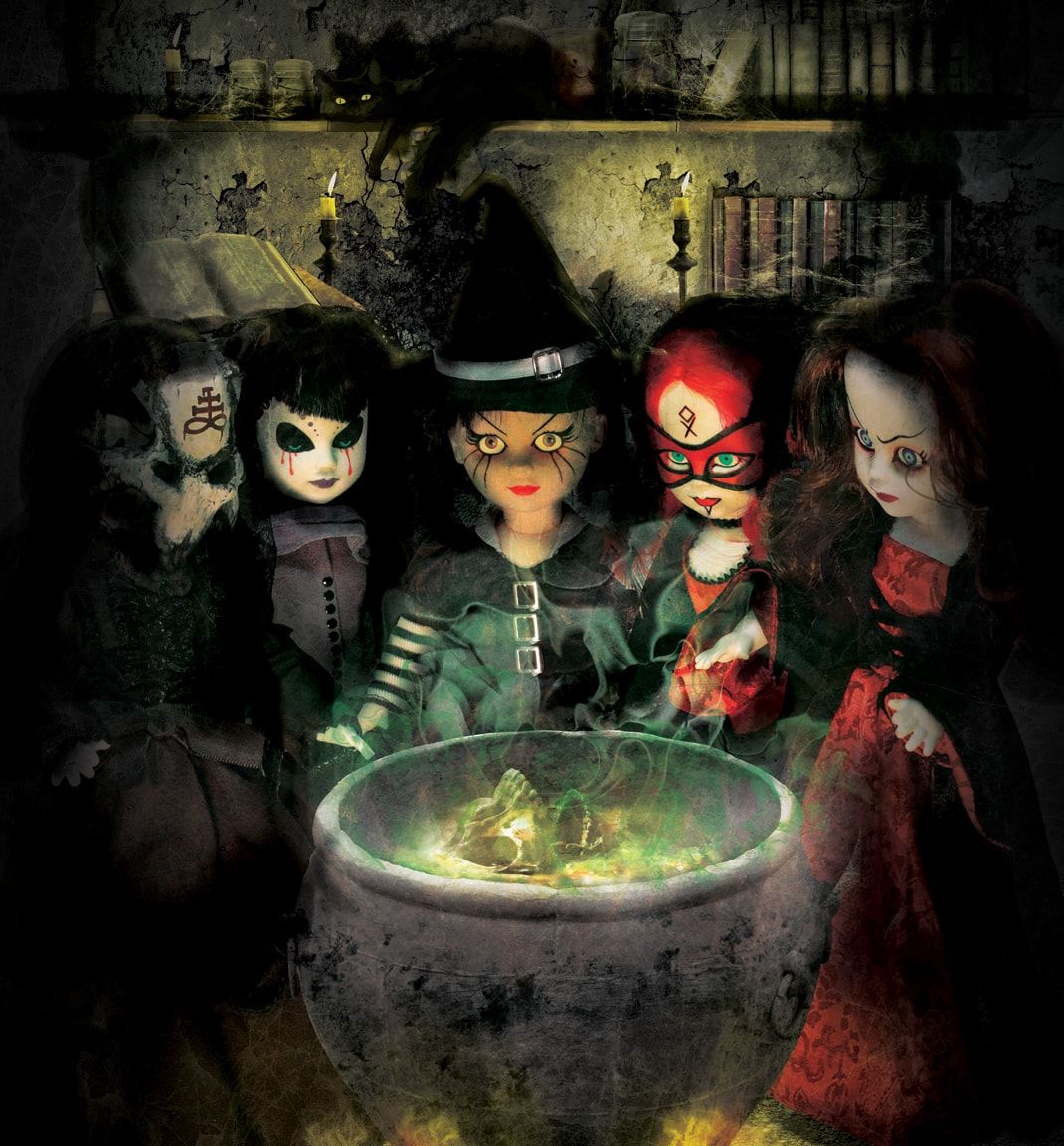 Drag out your cauldrons and ready your bloody butcher knives, we're bringing you some of our favorite Halloween recipes from our very own Toni Wyns, mother of Living Dead Dolls co-creator Damien Glonek. If anyone knows how to craft spookily sumptuous snacks that are sure to fright and delight, it's her. If you dare to try these recipes, let us know what you think on our social media!


Spine-chilling Snap Cookies with Pumpkin Dip

Yield: about 20 dozen cookies (3 cups dip)
Cookies

1 ? cups butter, softened
2 cups sugar
2 eggs
? cup molasses

4 cups all-purpose flour
4 teaspoons baking soda
2 teaspoons ground cinnamon
1 teaspoon each ground ginger and cloves
1 teaspoon salt
Additional sugar
Pumpkin Dip

1 (8-ounce) package cream cheese, softened

1 (18-ounce) can pumpkin pie mix
2 cups confectioner's sugar
1 teaspoon ground cinnamon
? teaspoon ground ginger
Preheat oven to 375 degrees. Use cookie sheets.
Cookies

In a mixing bowl, cream butter and sugar together. Add eggs one at a time, beating well with each addition. Add molasses; mix well. Combine flour, baking soda, cinnamon, ginger, cloves and salt; add to creamed mixture and mix well. Chill overnight.
Shape into ½-inch balls; roll in sugar. Place 2 inches apart on ungreased cookie sheets.
Bake the cookies for 12 minutes or until the edges begin to brown. Cool for 2 minutes before removing to a wire rack.
Pumpkin Dip

For dip, beat cream cheese in a mixing bowl until smooth. Add pumpkin pie mix; beat well. Add sugar, cinnamon and dinger; beat until smooth. Serve with cookies. Store the leftover dip in the refrigerator.


Frighteningly Fried Pumpkin Ravioli
Makes 30
1 (15-ounce) can pumpkin

? cup granulated sugar
2 tablespoons light brown sugar
2 tablespoons honey
¾ teaspoon pumpkin pie spice

? (14-ounce) package won ton wrappers
Vegetable oil
Stir together first 5 ingredients in a medium bowl.
Arrange 1 won ton wrapper on a clean, flat surface. (Cover remaining wrappers with plastic wrap or a damp towel to prevent drying out.) Lightly moisten edges of wrapper with water. Place about 2 teaspoons of the pumpkin mixture in the center of the wrapper; fold the 2 opposite corners together over the pumpkin mixture, forming a triangle. To make the wrapper in a dumpling, press the edges together to seal, removing any air pockets. Cover with plastic wrap or a damp cloth. Repeat procedure with the remaining wrappers and pumpkin mixture.
Pour oil to depth of 3-inches in a Dutch oven; heat the oil to 375 degrees. Fry dumplings, 3 at a time, about 20 seconds on each side or until golden brown and edges are crisp. Drain on paper towels. Serve immediately.

Hair-raising Halloween Snack Mix
1 cup candy corn

1 cup peanuts
? cup raisins

1 bag popcorn
In a mixing bowl, mix together the four ingredients. Serve in a Halloween serving dish or make paper cones and put about ? cup of the mix in each cone.

Petrifying Pumpkin Pie
2 eggs
1 ? cups fresh pumpkin
2/3 cups brown sugar
? teaspoon salt

2 teaspoons pumpkin pie spice
1 cup evaporated milk
9-inch pie crust
Preheat oven to 425 degrees. Use a 9-inch pie plate.
In an electric mixer on medium speed, beat together the eggs, fresh pumpkin, brown sugar, salt and pumpkin pie spice until blended. Stir in evaporated milk and blend together. Pour into prepared pie crust.
Bake at 425 degrees for 15 minutes then at 350 degrees for 45 minutes or until set in center.

Soul-sucking Pumpkin Soup
Soup

One fresh pumpkin

Milk- about 1 quart depending on the size of the pumpkin and how much puree you get from the pumpkin and what consistency you want the soup to be.
Dumpling Dough

4 cups of flour

1 ¼ teaspoon baking powder
1 cup milk, plus ½ cup if needed
1 (32-ounce) carton chicken broth
Soup

Scrape out seeds and stringy pumpkin, discard. Then scrape pulp out of pumpkin.
In a large sauce pot over low heat, add a tablespoon of water and cook pulp. Cook until soft and mushy. Drain. When cooled, put in food processor and blend until creamy.
Put creamy pumpkin in soup pot and add enough milk- about two cups to start with, and adding additional milk as required until the consistency of this mixture is light, creamy, and not too thick. Heat the soup on medium heat until it just starts to bubble. Do not over boil. Lower the heat and simmer for about ½ hour.
Serve with dumpling dough. Recipe follows:
Dumpling Dough

Mix all ingredients together until you have your dough. Snip this dough into ?-inch pieces as you add the pieces to a pot of boiling broth and then simmer for 15 to 20 minutes. Drain.
Dumpling dough can be made ahead of time and put in the freezer.
If you dare to try these recipes, let us know what you think on our social media!