Living Dead Dolls at Chiller Theater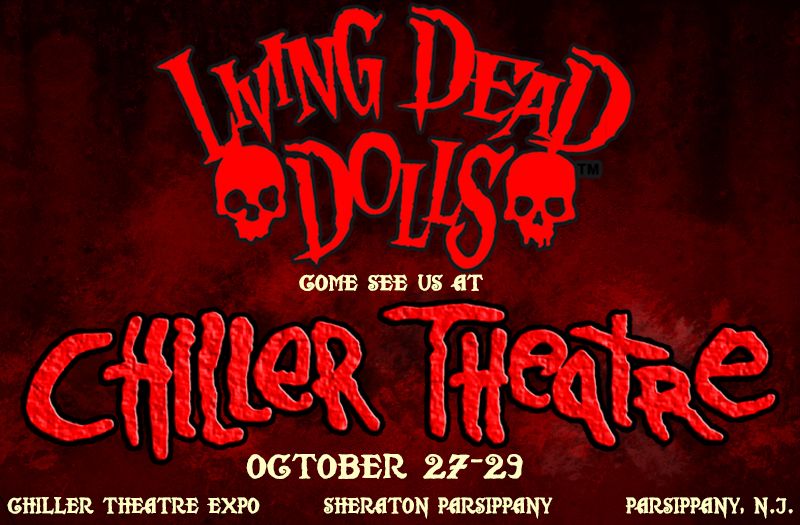 This weekend October 27-29th marks the 27th year of the Chiller Theatre Halloween Spooktacular Toy, Model and Film Expo in Parsippany, NJ. Living Dead Dolls will have a booth set up at this event for all three days.
Living Dead Dolls first began almost 20 years ago at Chiller Threatre in April 1998. Since then they have been set up twice a year in April and October at every Chiller Theatre show since. Come by the booth to fill in that gap in your collection. There will be many Living Dead Dolls on display to purchase including some older series and exclusives. You'll also be able to purchase some of the latest dolls to be released, including Living Dead Dolls Presents The Exorcist. Damien and Ed will be on hand each day at the booth to meet and greet fans and autograph dolls for free.
Living Dead Dolls will only be a small part of the macabre magnificence with dozens of other dealers coming to show off their creepy merchandise. They'll have posters, toys, t-shirts, and more filling every room to the brim with loot you can take home. Celebrities like Danny Lloyd from The Shining will have discussion panels and meet and greet tables. They even have bands playing in the ballroom Saturday night. If you want to show off some of your own creativity there is a costume contest held Saturday night as well a model kit and art contest. For more information check out http://www.chillertheatre.com/main.htm
See you at Chiller Theater!