Throwback Thursday- Hellboy Movie Figures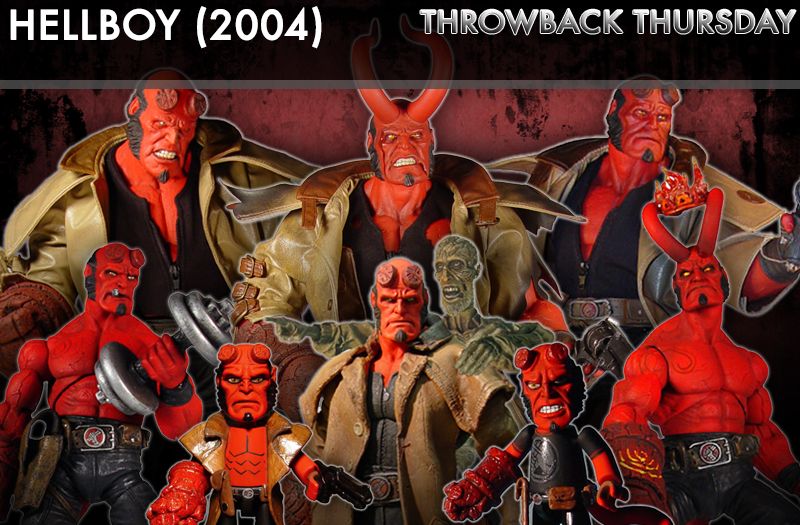 In 2004, Mezco Toyz announced a series of Hellboy figures based on the eponymous 2004 film directed by Guillermo del Toro and inspired by the graphic novel by Mike Mignola. The film follows Hellboy, an agent of the Bureau of Paranormal Research and Defense, as he protects the world from paranormal threats. Today, we look back on the 7" figures, Mez-Itz and 18" figures released for the first Hellboy film.
Hellboy: Series 1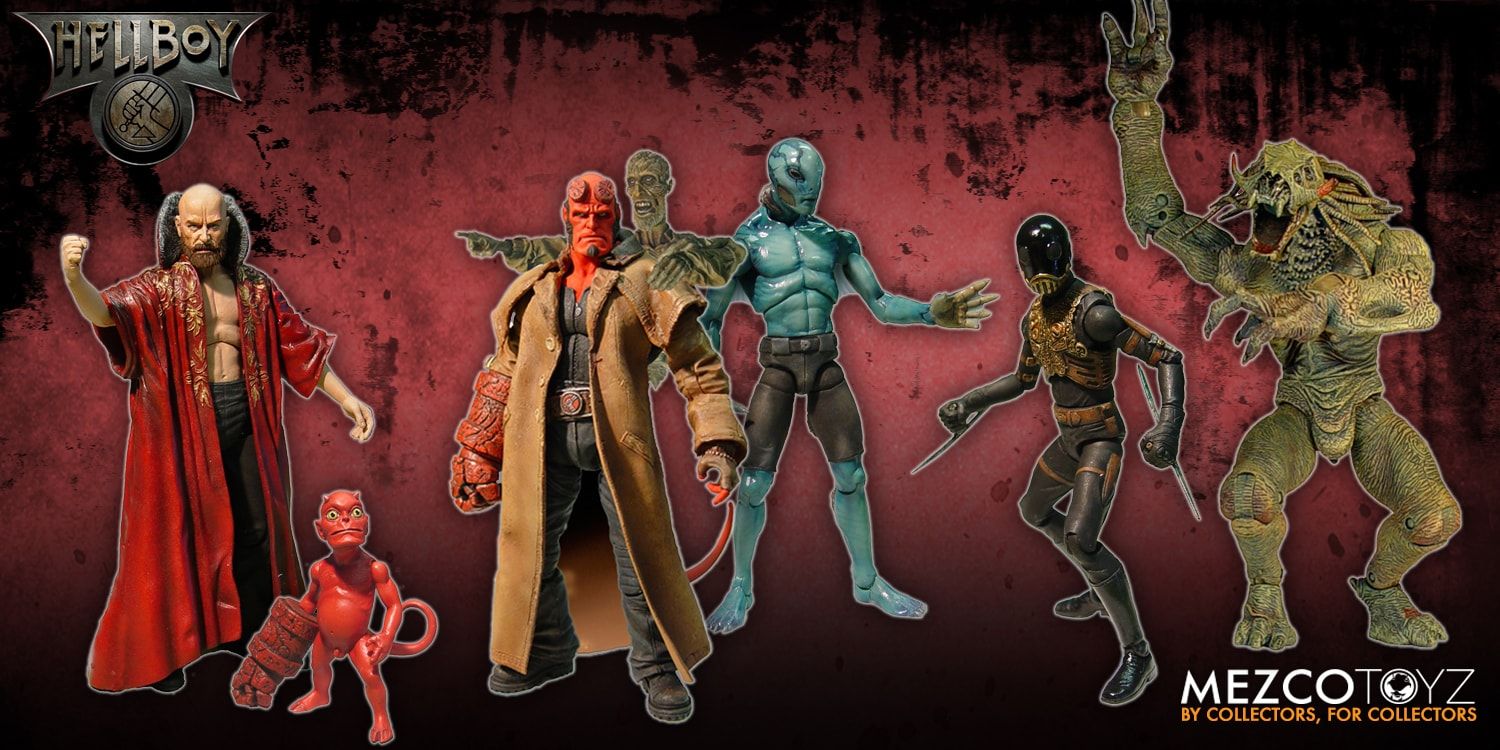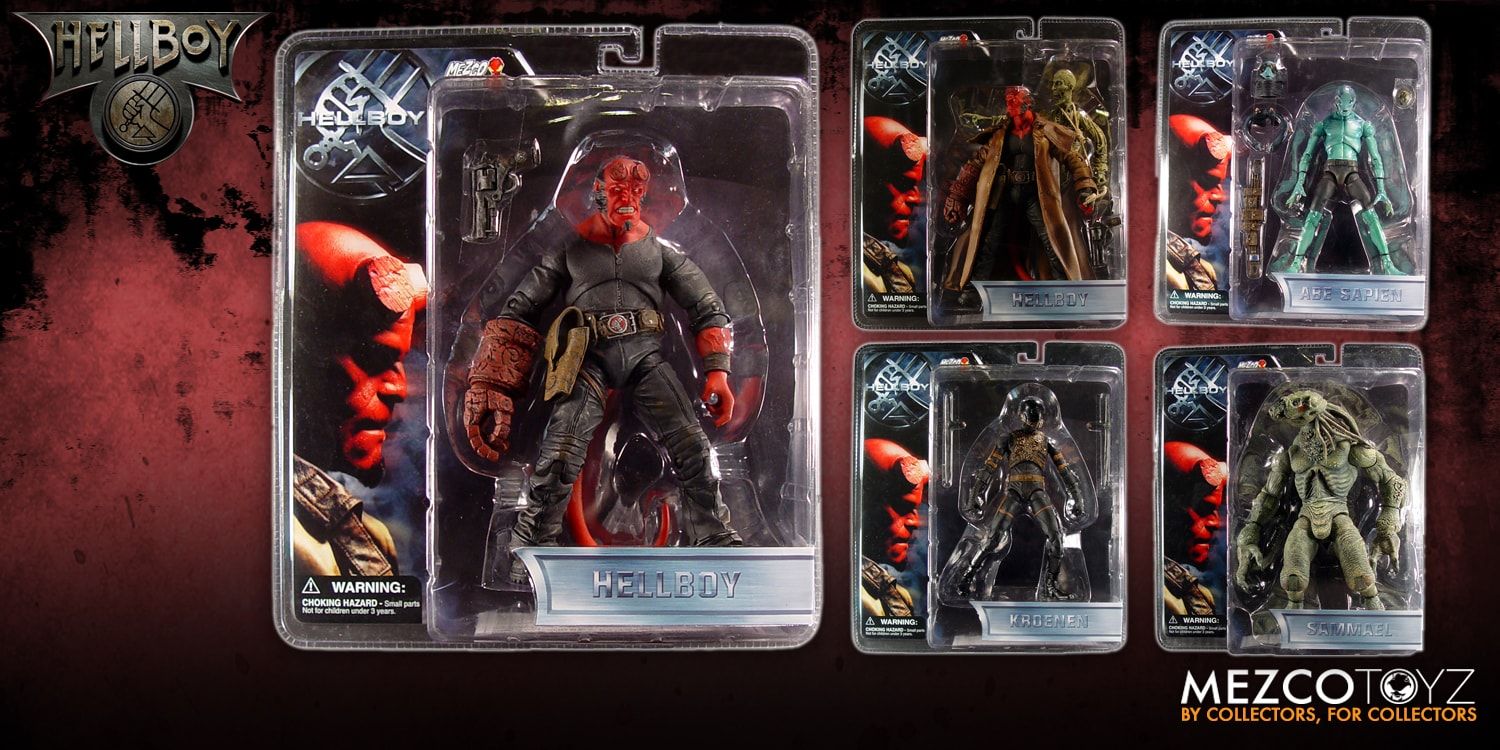 Rasputin & Baby Hellboy: Rasputin includes a removable Right Hand of Doom with hinged cover, and detailed robe. Hellbaby's Hand of Doom is articulated.
Hellboy & Ivan: Hellboy includes a trenchcoat, holster, and gun. Hellboy's tail has three points of articulation. Ivan came complete with his rope and bendable arms.
Abe Sapien comes ready with a removable respirator, utility belt, and Sammael egg. His alternate head sported goggles and a neck collar.
Kroenen features a removable mask and his two tonfa blades.
Sammael sports an articulated claw and stands at 9" tall.
Hellboy: Series 1.5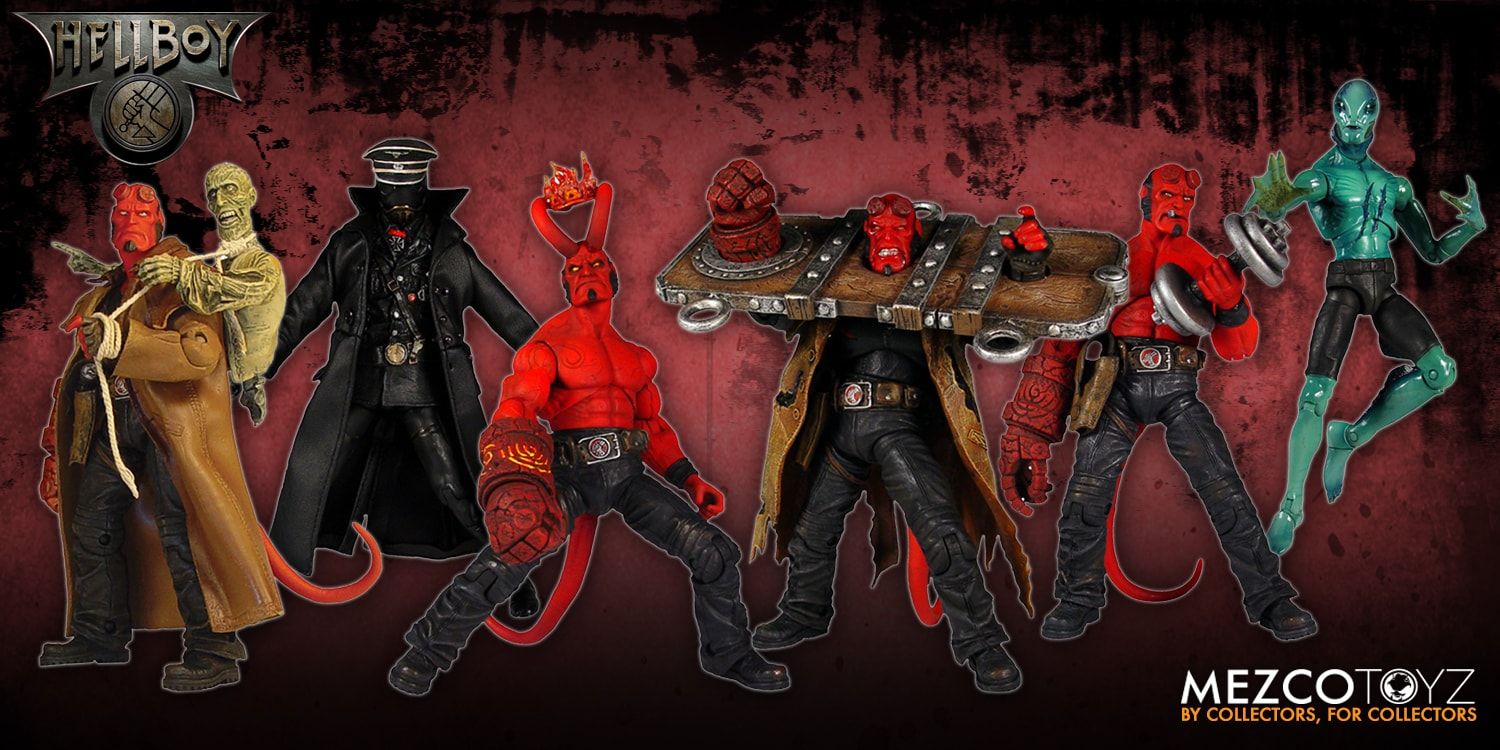 Hellboy With Ivan (Closed Mouth) includes a trenchcoat, holster, and gun. Hellboy's tail has three points of articulation. Ivan comes complete with his rope and bendable arms.
Officer Kroenen sports a removable hat, mask, and coat. He also includes a removable gun, working holster, and interchangable hands.
Anung Un Rama includes a crown of flames that could be clipped between his horns, and the Good Samaritan gun.
Hellboy (Battle Damaged) comes with a stockade and dangling chains before his transformation to Anung Un Rama.
Hellboy Shirtless Variant includes a dumbbell, Good Samaritan gun, and removable coat.
Abe Sapien sports some battle damage and included three Sammael eggs, utility belt, and respirator.
Hellboy Exclusives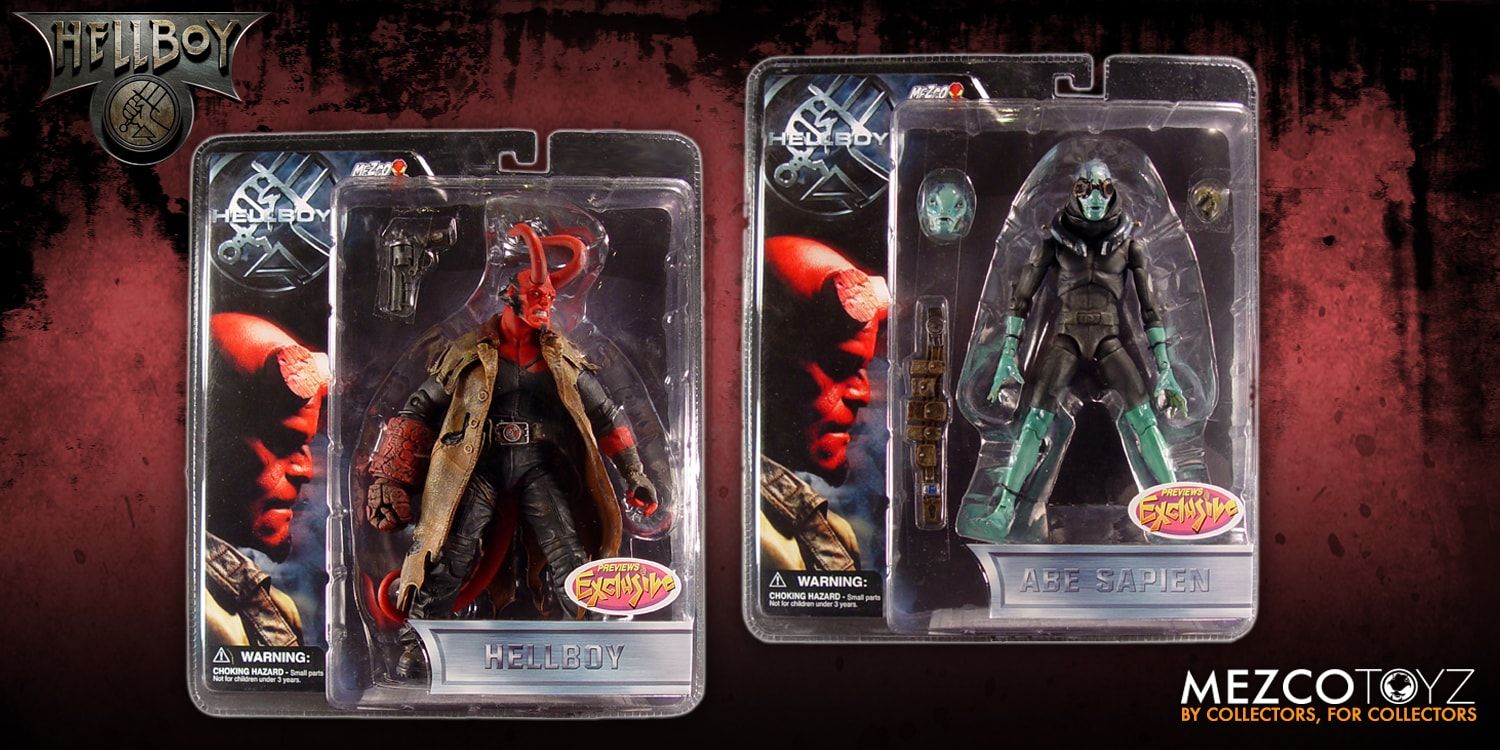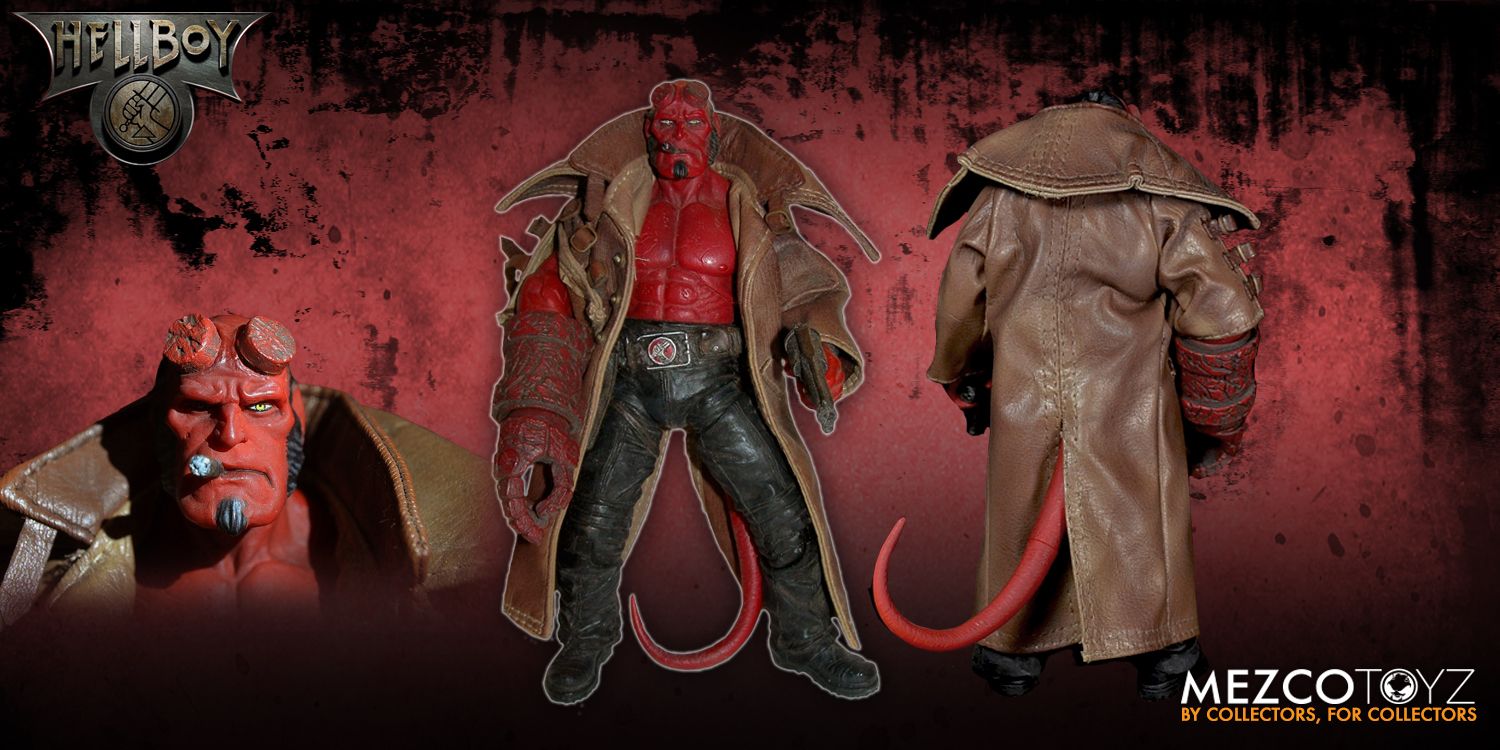 Hellboy, the battle damaged edition, includes a cloth trenchcoat and his Good Samaritan pistol which could be opened to reveal the inner chamber.
Abe Sapien comes in a full wet suit and includes a variant head design, belt, and respirator.
A San Diego Comic-Con Exclusive was also released. This Hellboy features a polystone hand, metal Good Samaritan pistol, and removable coat with working buckles and straps.
Hellboy Mez-Itz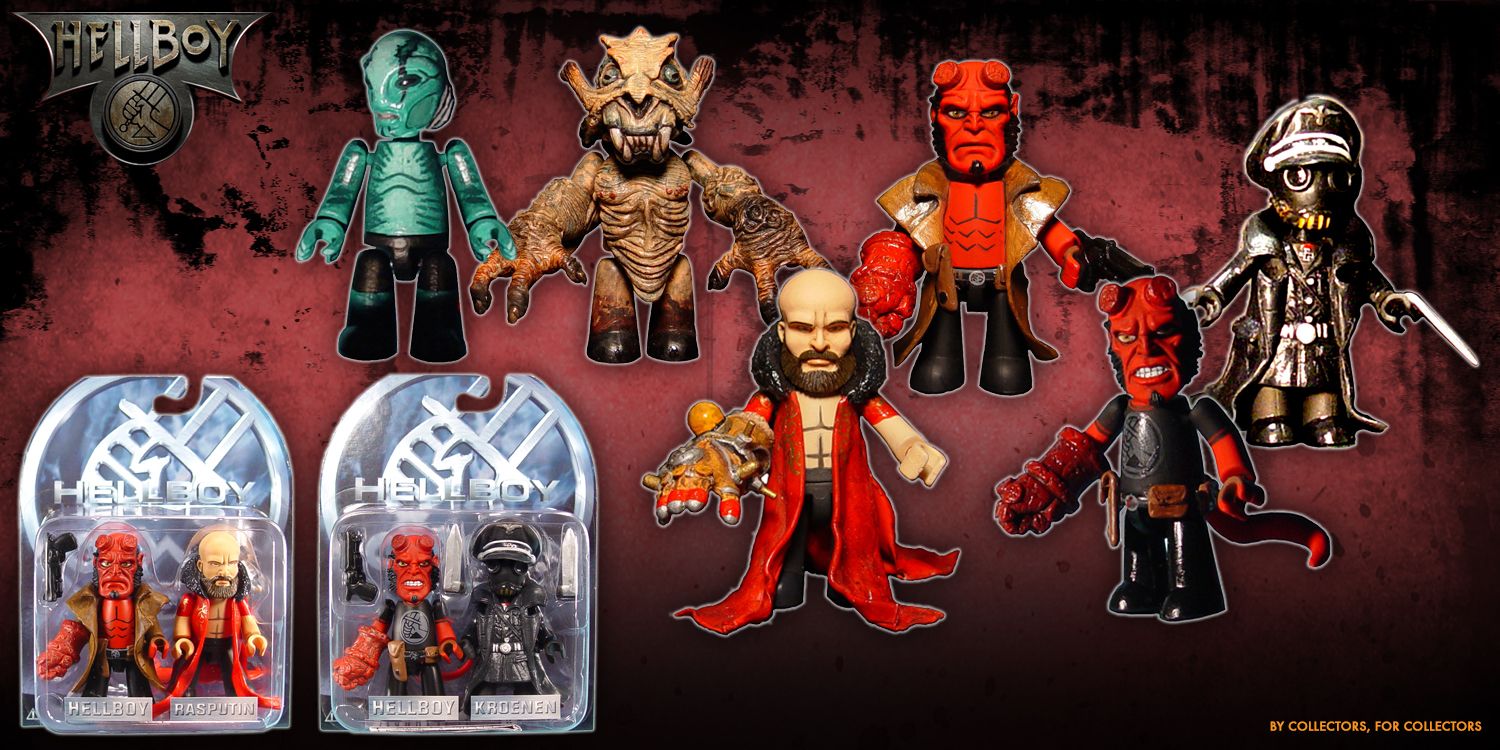 The Hellboy Mez-Itz stand at 3" tall and feature six points of articulation, unique head sculpts, and accessories.
Abe features fins on his back, arms, and legs.
Sammael's finger appendage has the ability to bend forward, as well as snap behind his elbow.
Hellboy with jacket came with his Good Samaritan gun and movable tail.
Kroenen includes two removable tonfa blades.
Hellboy without jacket features a movable tail, articulated Hand of Doom, and Good Samaritan gun.
Rasputin features a removable hand glove.
Hellboy 18" Figures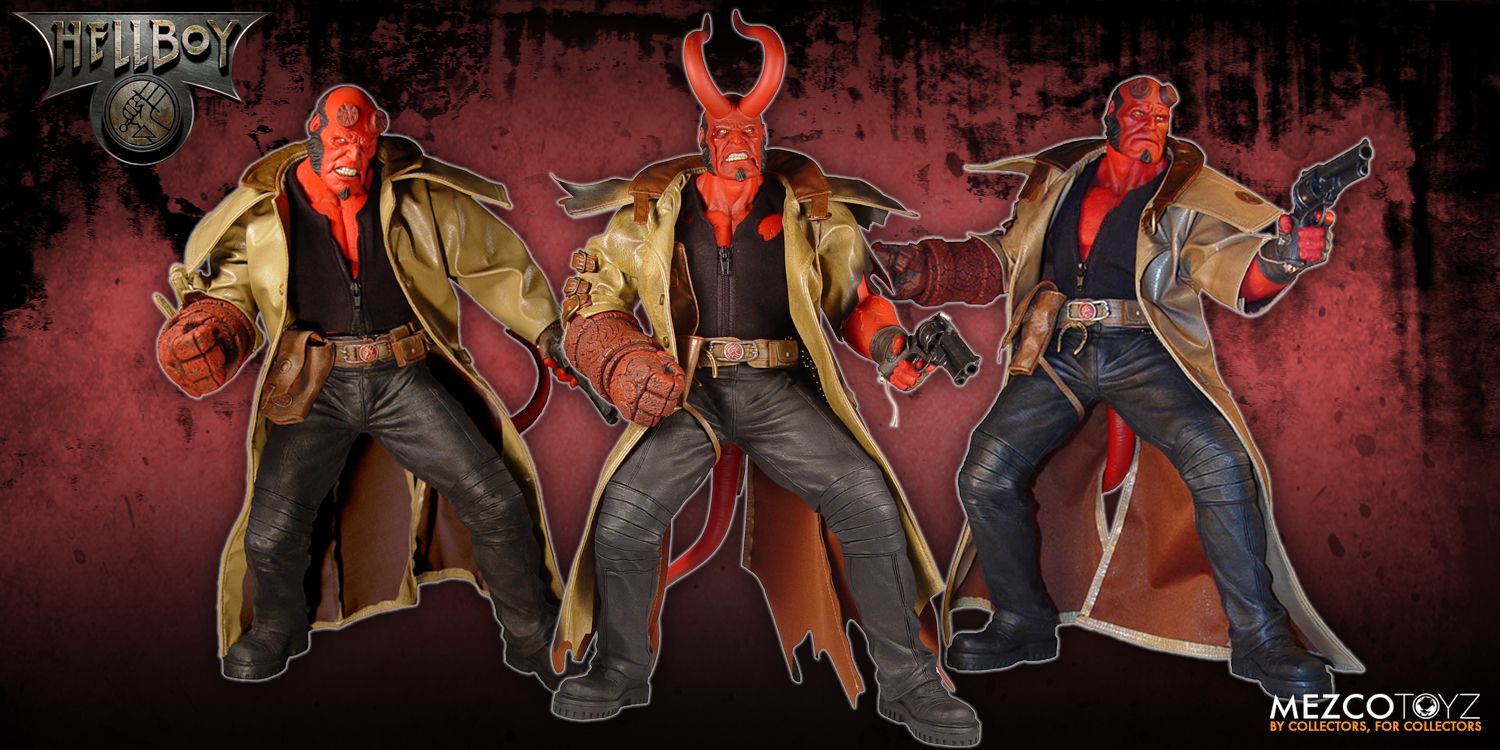 Three 18" Rotocast figures were released, all complete with a flexible tail and a host of accessories.
Hellboy with short horns and coat was available in both closed and open mouthed variants. Each figure features at least 20 points of articulation. He includes a removable cloth coat, and his Good Samaritan gun. The gun is also articulated, and can collapse to reveal the inner chamber. The holster has a closable flap and rosary beads dangle from the sculpted belt.
Hellboy with coat and long horns was also released as a Tower Records/Hot Toys shared Exclusive. He features a battle damaged trench coat.
Who's your favorite Hellboy? Let us know on Facebook, Instagram, and Twitter!