Throwback Thursday - Celebrate Valentine's Day with Living Dead Dolls Couples!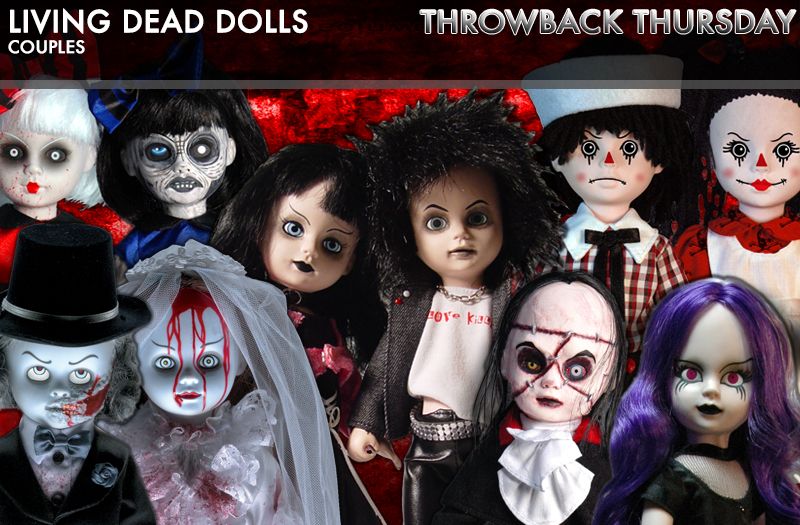 This Valentine's Day, Mezco Toyz looks back on the couples of Living Dead Dolls and the bonds they share. These pairs truly defy the eternally romantic 'till death do they part'.
Died & Doom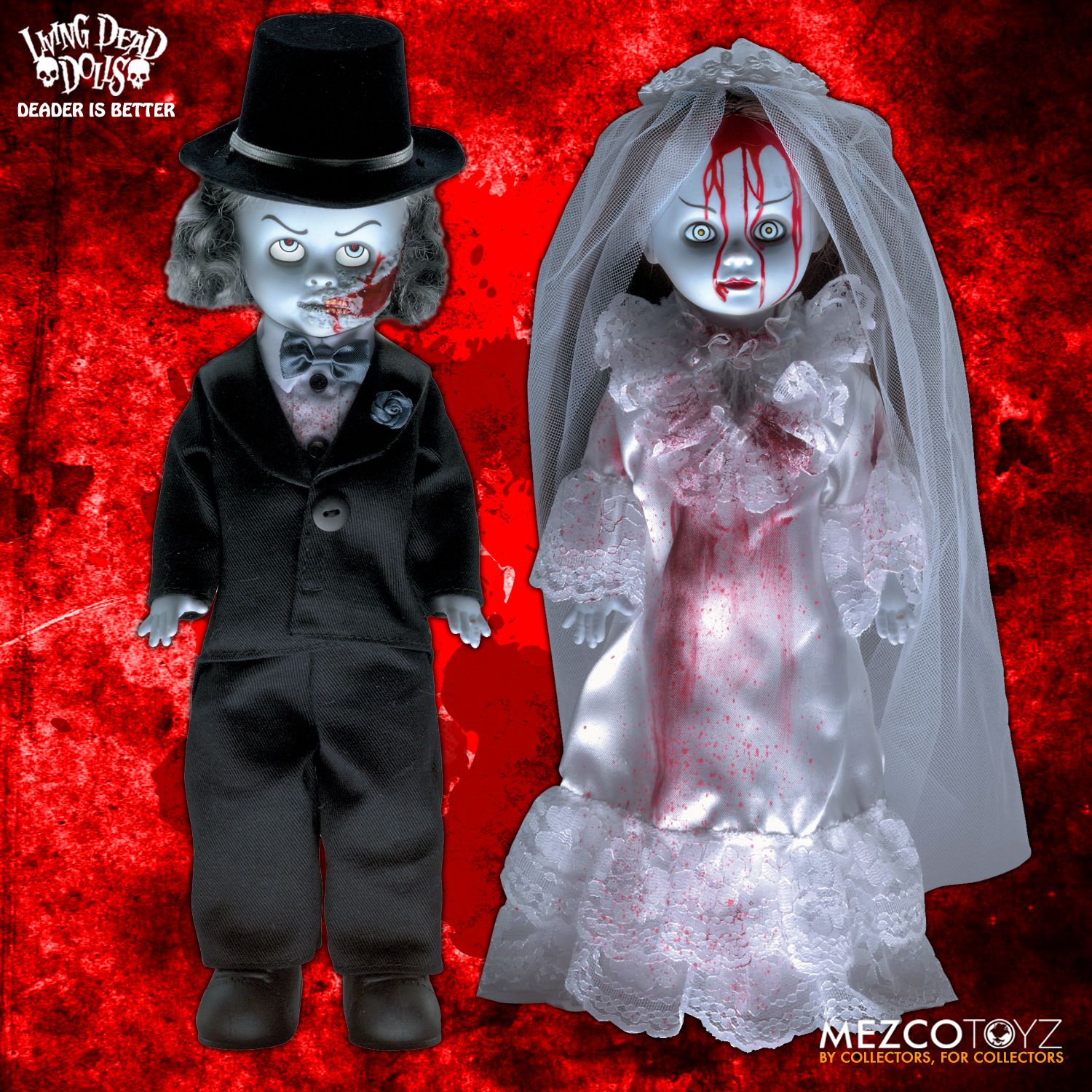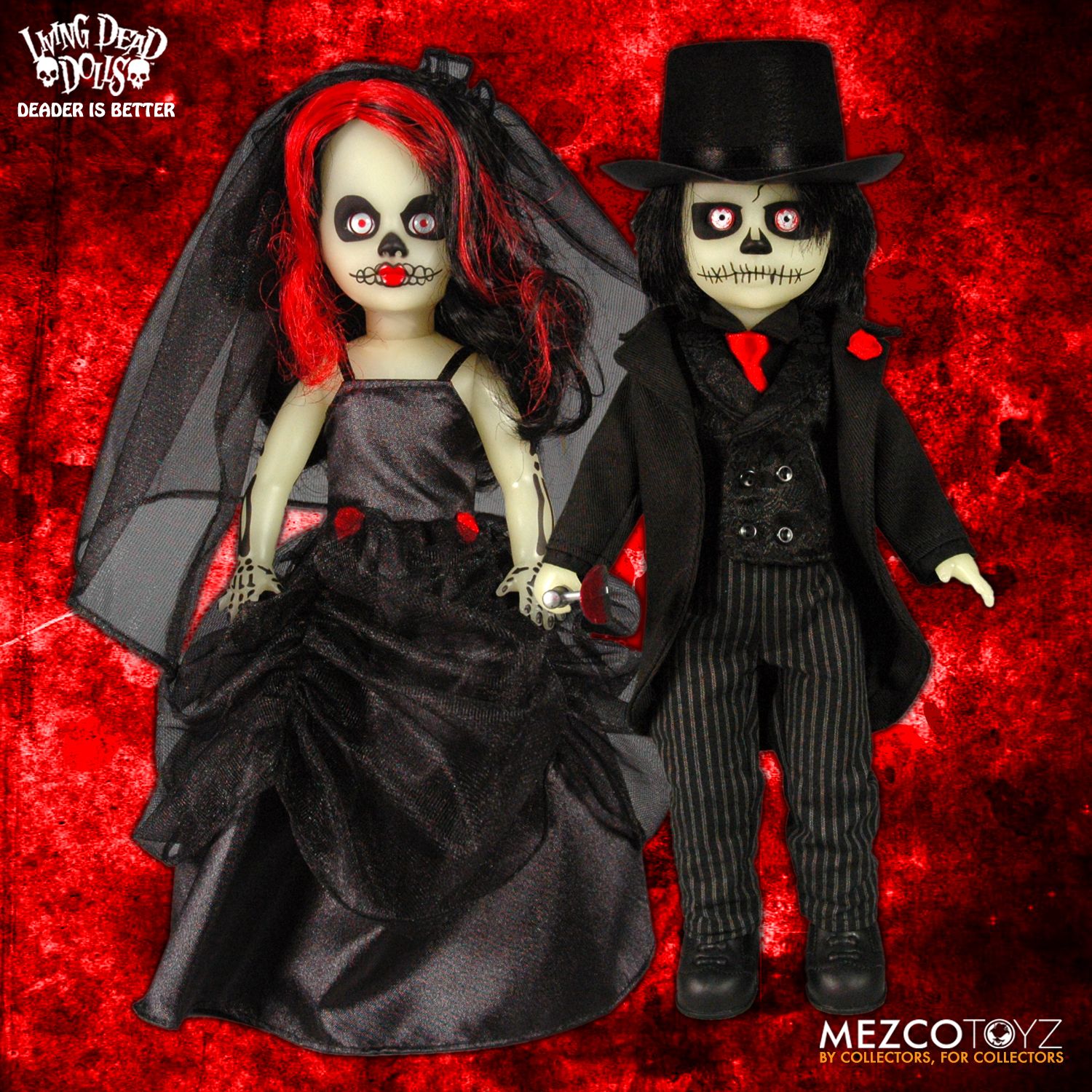 In 2001, Died & Doom (purposely rhyming with "Bride and Groom") was released. They sported blood splattered, traditional wedding clothing with blood streaming down Died's face and a Doom's half Glasgow smile. A glow in the dark Died & Doom was also released as part of Resurrection Series IV in 2010.
Sinister Minister & Bad Habit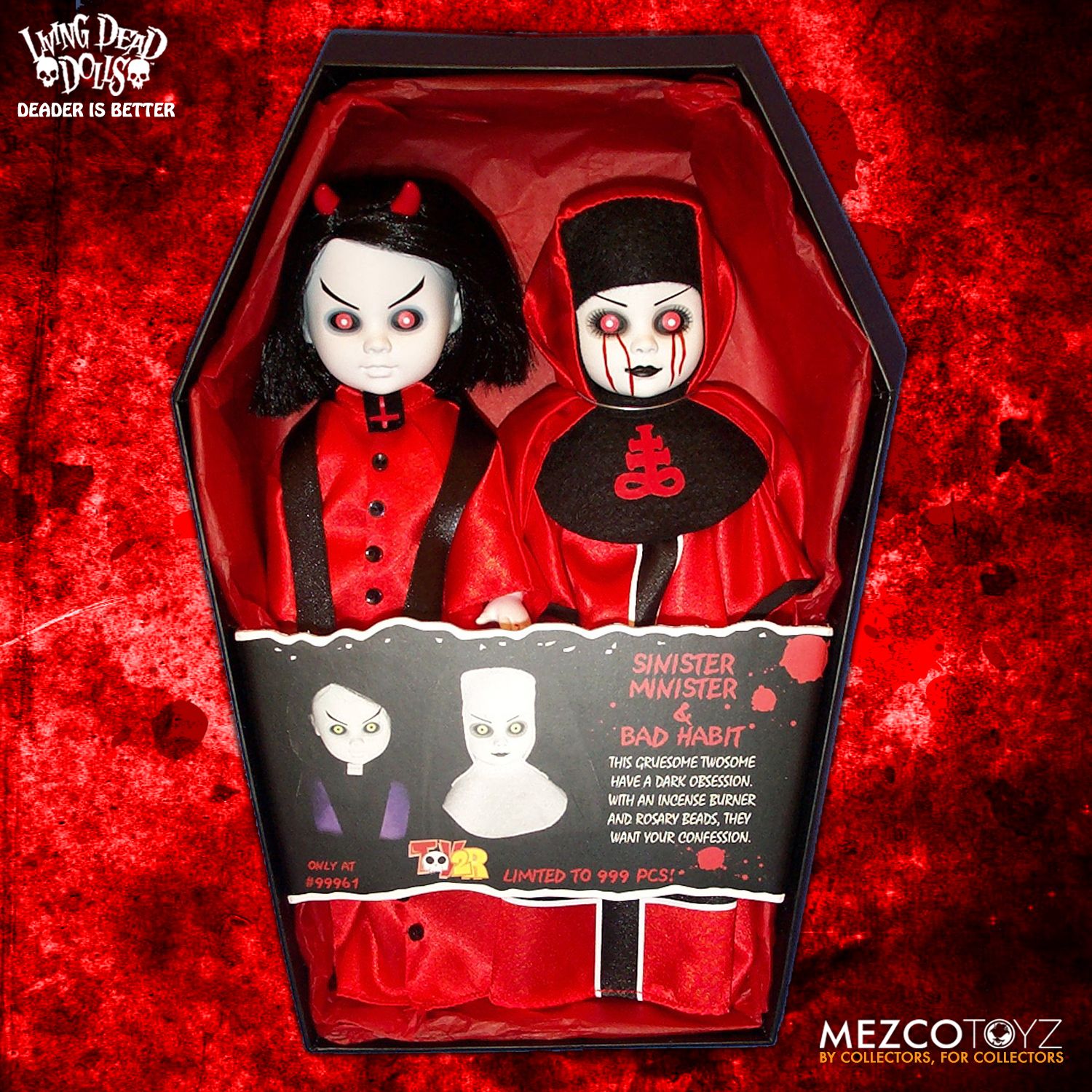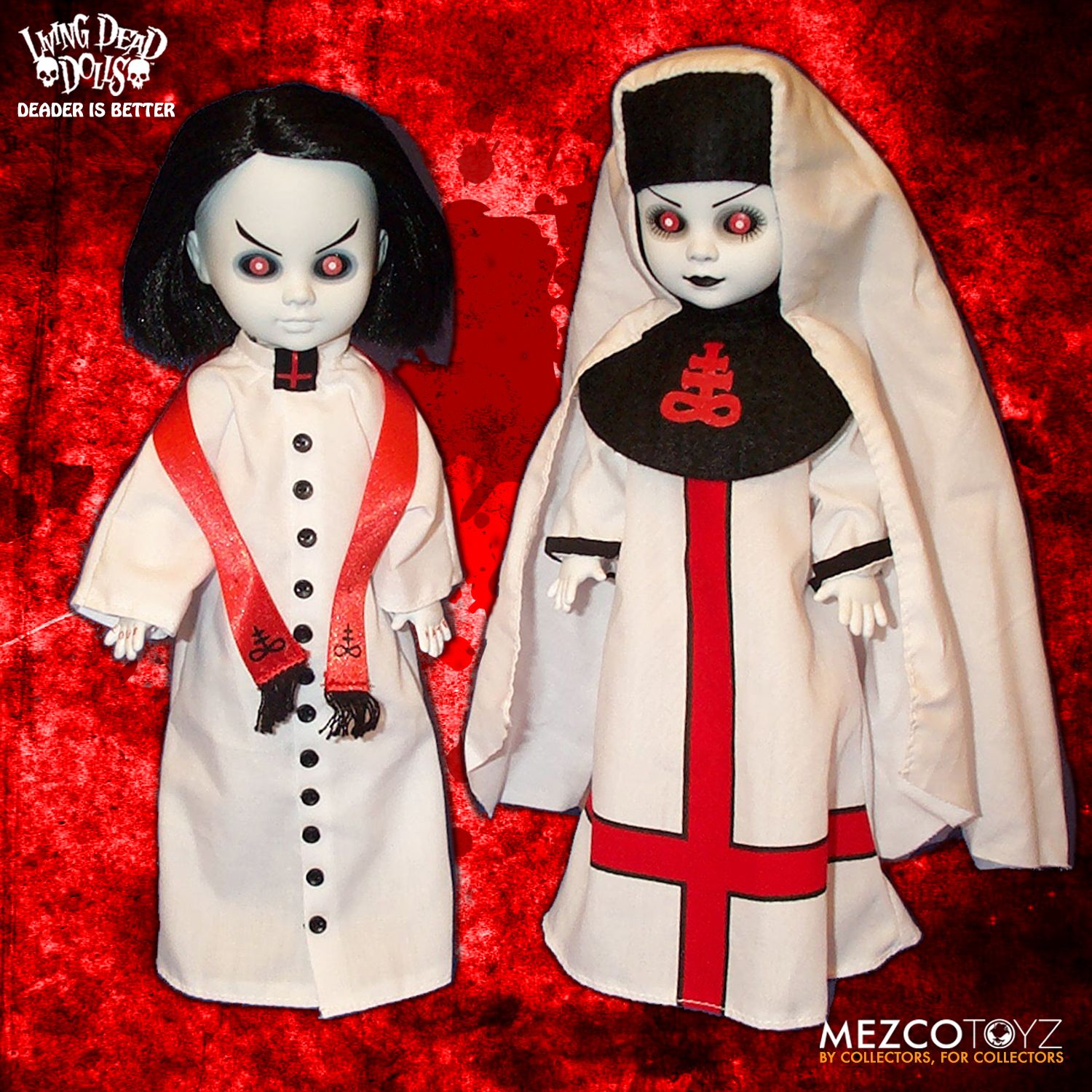 In 2001, three versions of the Sinister Minister and Bad Habit two-pack were released. These versions include a red version, all black version, and all white version. The two are dressed in a priest's garb and nun's habit, and their death date is December 25th.
Dr. Dedwin & Nurse Necro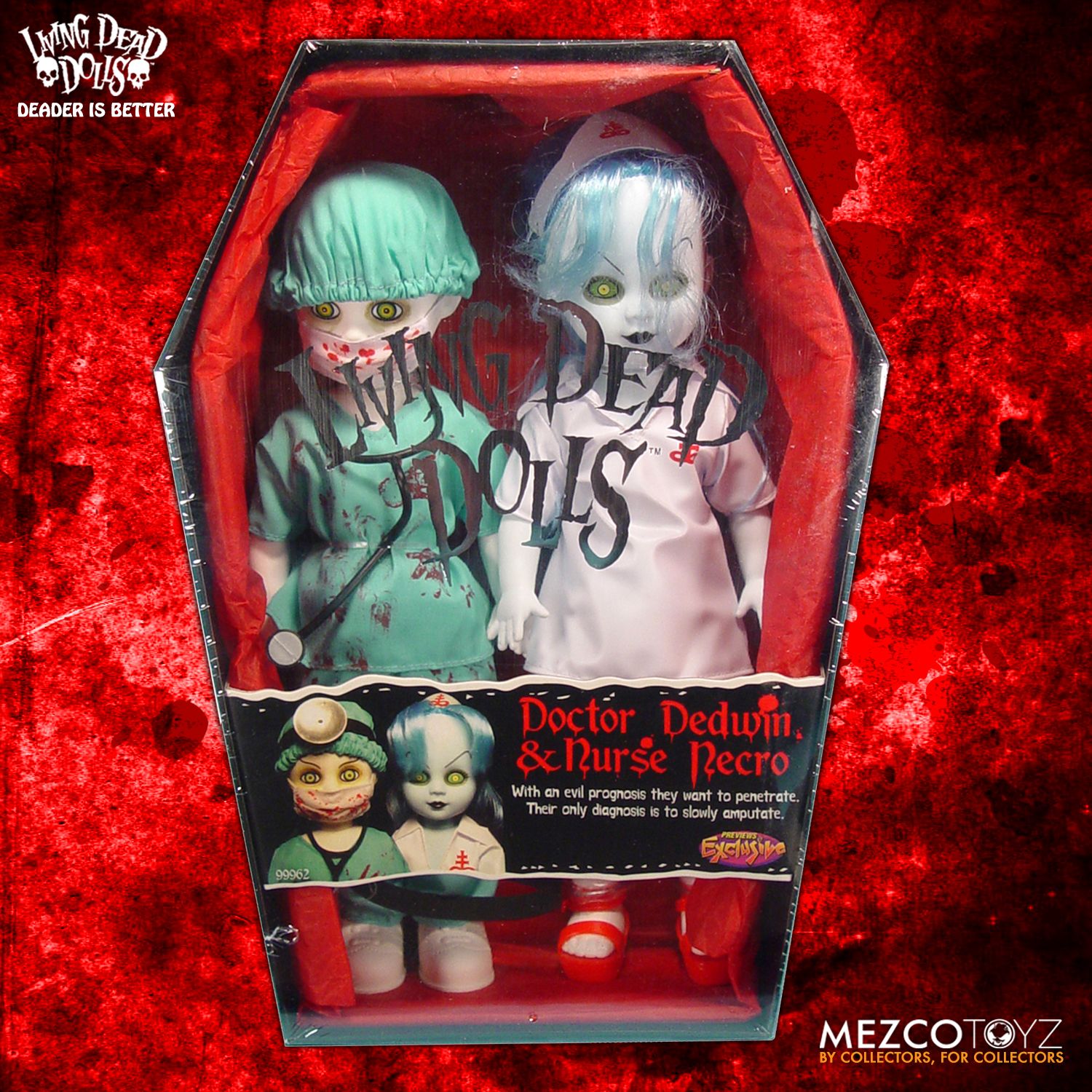 Released in 2003, Dr. Dedwin & Nurse Necro came packaged in a double coffin. Nurse Necro came dressed in a standard nurse's uniform with thigh high stockings. Dr. Dedwin wore surgical scrubs covered in bloody handprints.
Psycho-Billies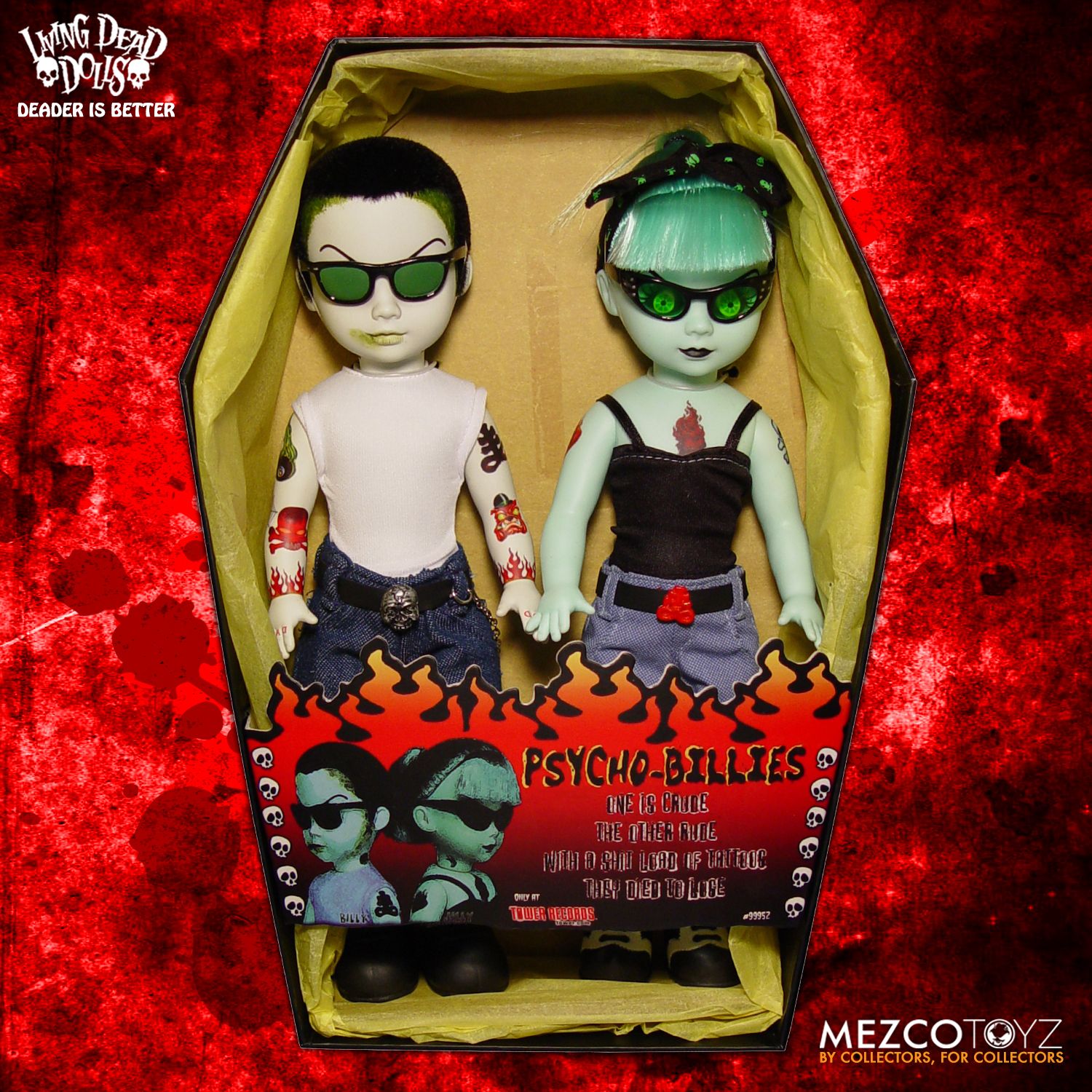 The tattoo adorned Psycho Billies 2-pack were released in 2003. Their fashion sense come from their namesake- the psychobilly music genre that combines rockabilly and punk rock. They came packaged in a double coffin with handles printed on the side.
American Gothic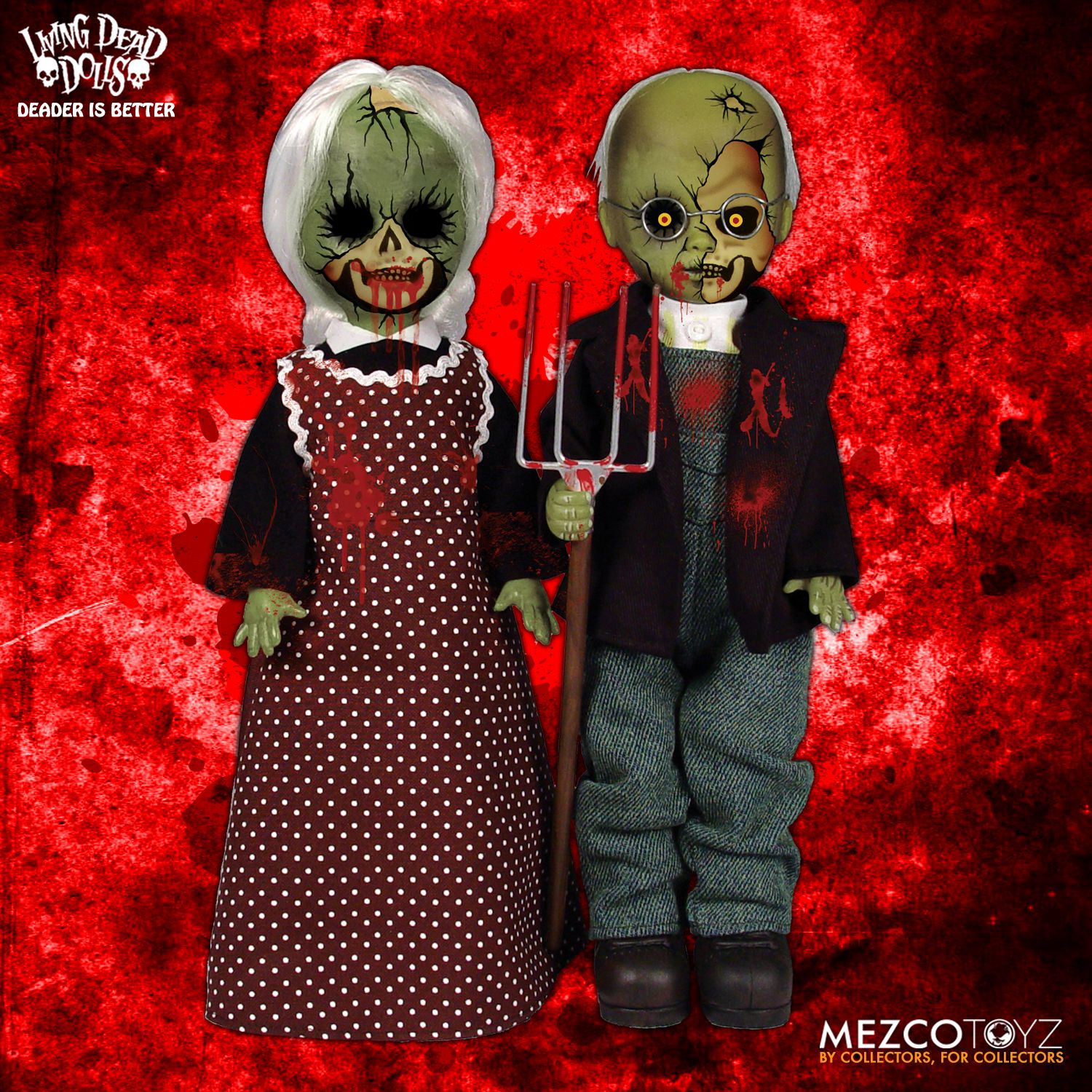 Released in 2004, the American Gothic two-pack pays homage to the classic Grant Wood painting of the same name. A variant with rotten, green skin was also released. American Gothic came packaged in a double coffin and are one of the only Living Dead Dolls to not have a chipboard poem.
Jack & Jill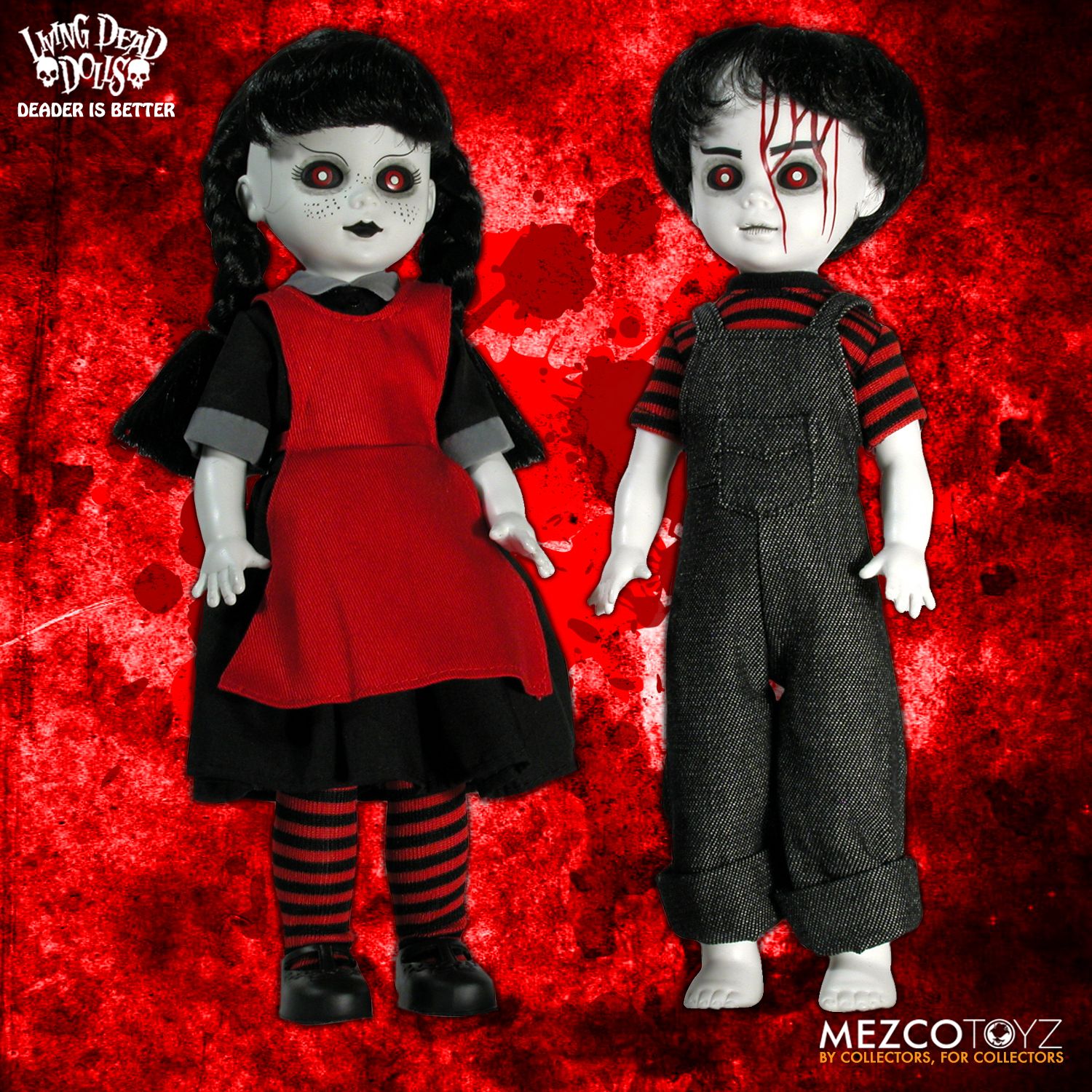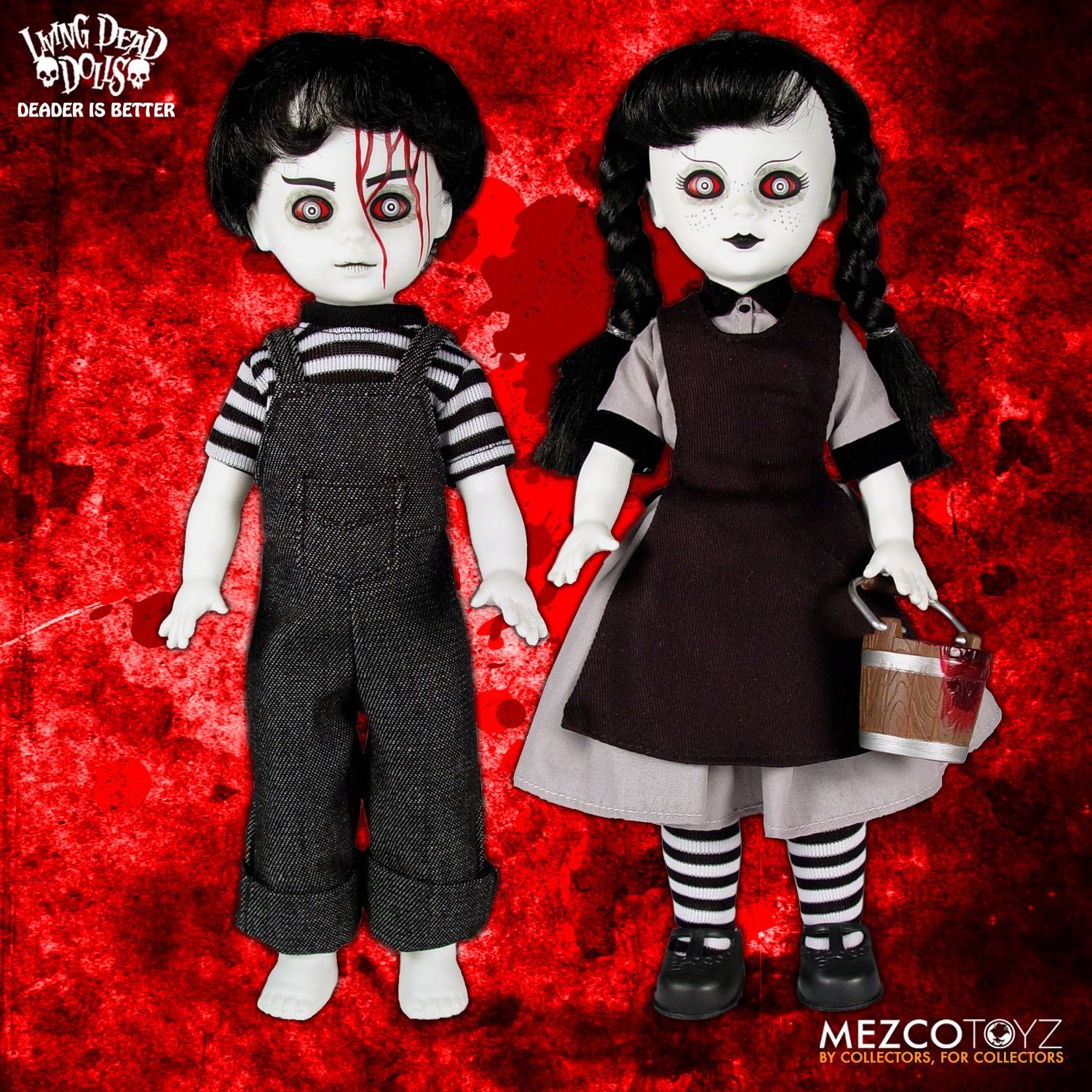 Jack & Jill tumbled down the hill as a black and white 2004 Summer exclusive. Jack & Jill also came in black only, white only, and red variants. A select few were glow in the dark, which could be revealed by opening up the opaque, black body bag inside their double coffins.
Nosferatu & Victim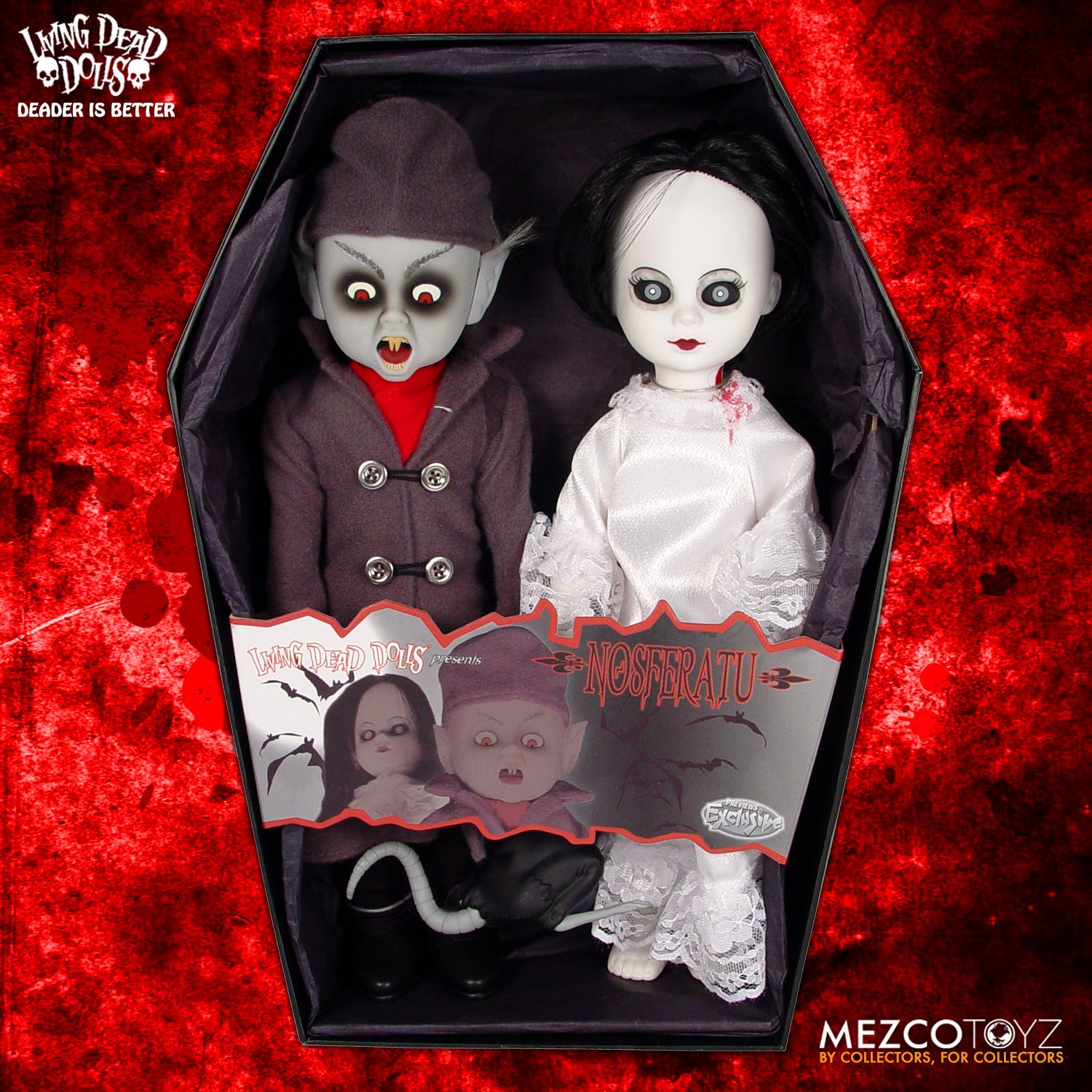 Nosferatu & Victim arrived in 2004 as a two-pack. Inspired by F.W Murnau's classic 1922 film, Count Orlok is dressed in a long black coat. His victim wears a long, lacy nightgown. Nosferatu & Victim included a pet rat.
Great Zombini & Viv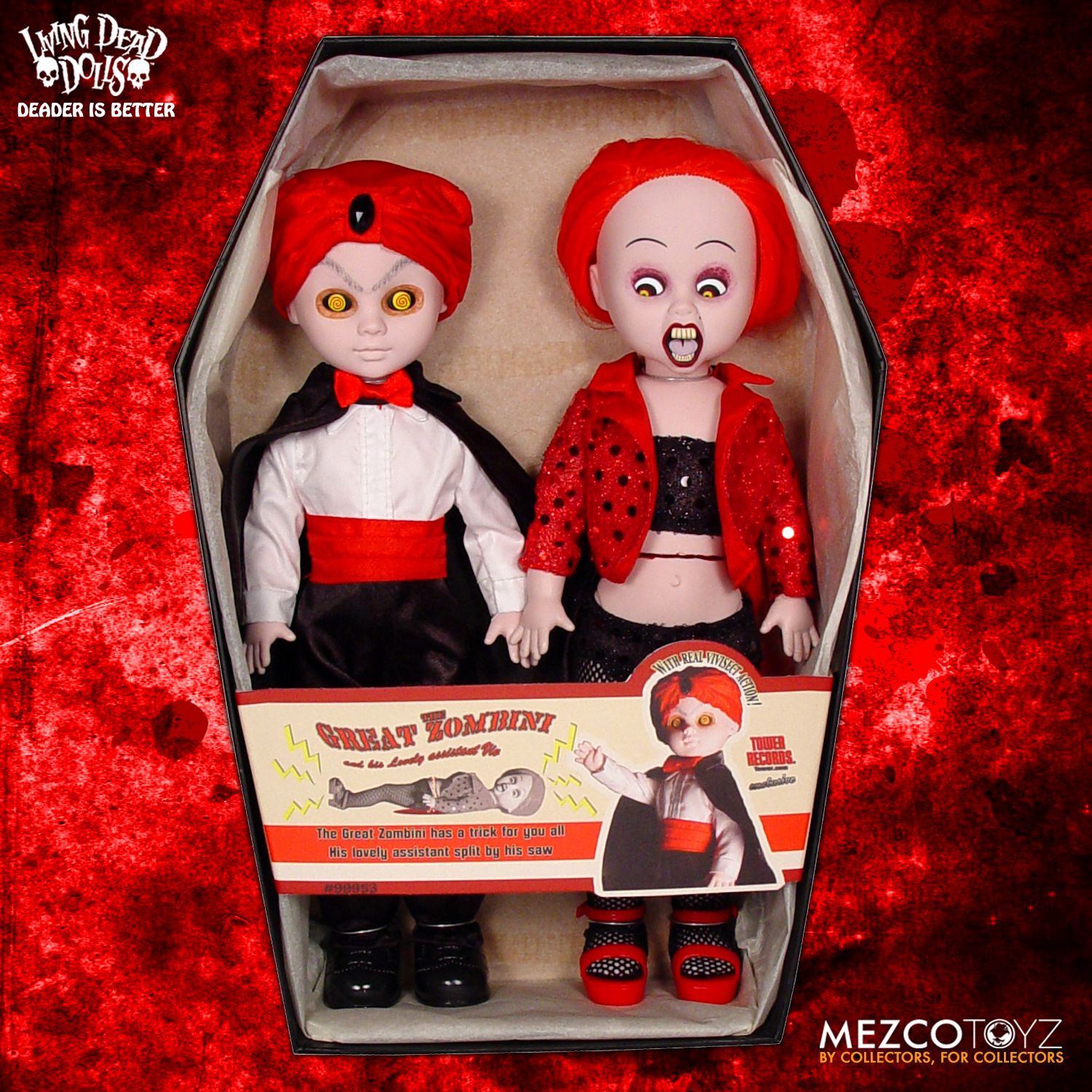 The Great Zombini & Viv 2-pack arrived ready to entertain in 2004. The Great Zombini, magician extraordinaire, could saw trusty assistant Viv in half. To date, Viv is the only Living Dead Dolls body that splits into two separate pieces.
Romeo & Juliet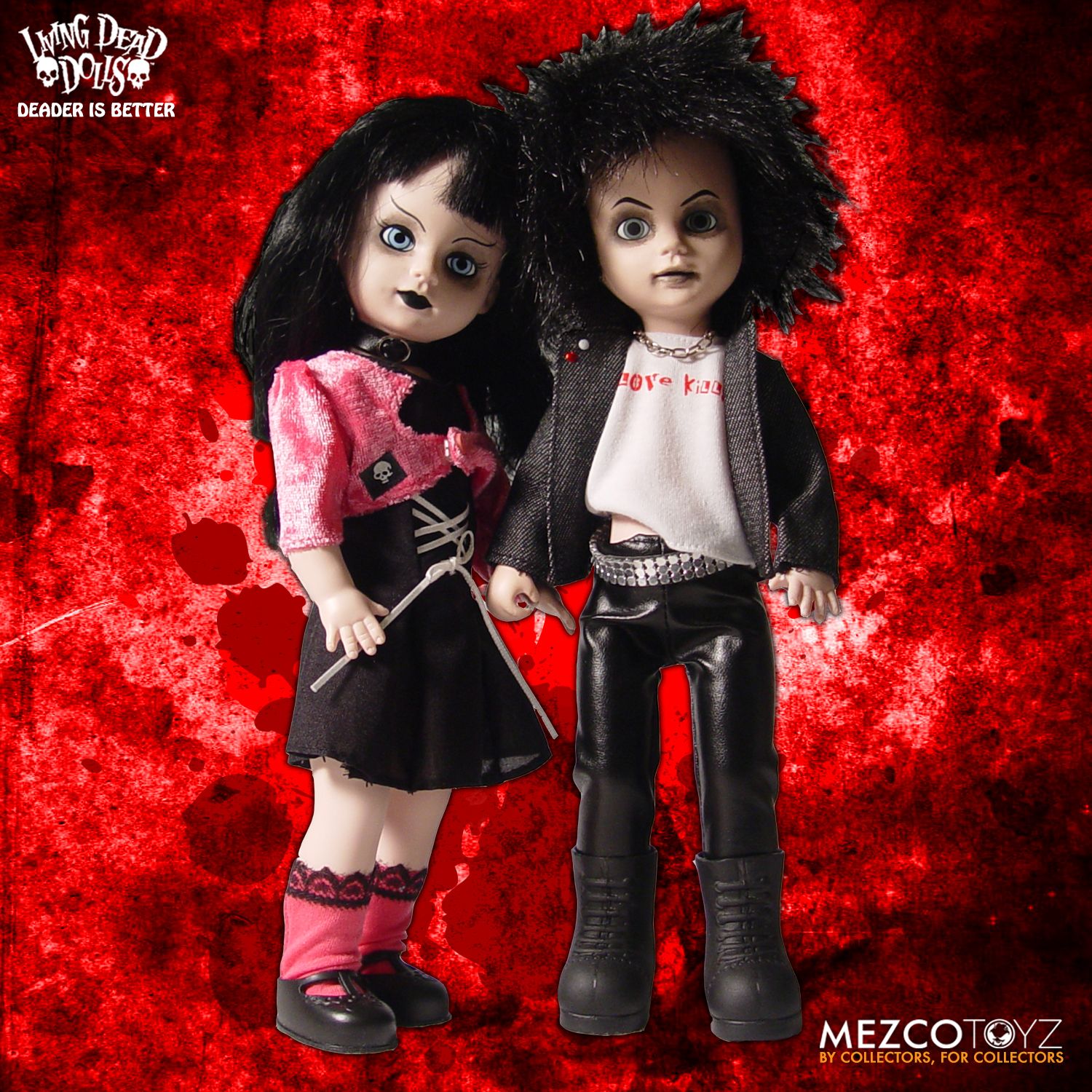 The tragically romantic Romeo & Juliet, now reimagined, was released in 2006. Juliet's clothing is emphasized by her tall combat boots, and Romeo's style by his spiked hair. Both share a death date with Sid Vicious.
Edgar Allen Poe & Annabel Lee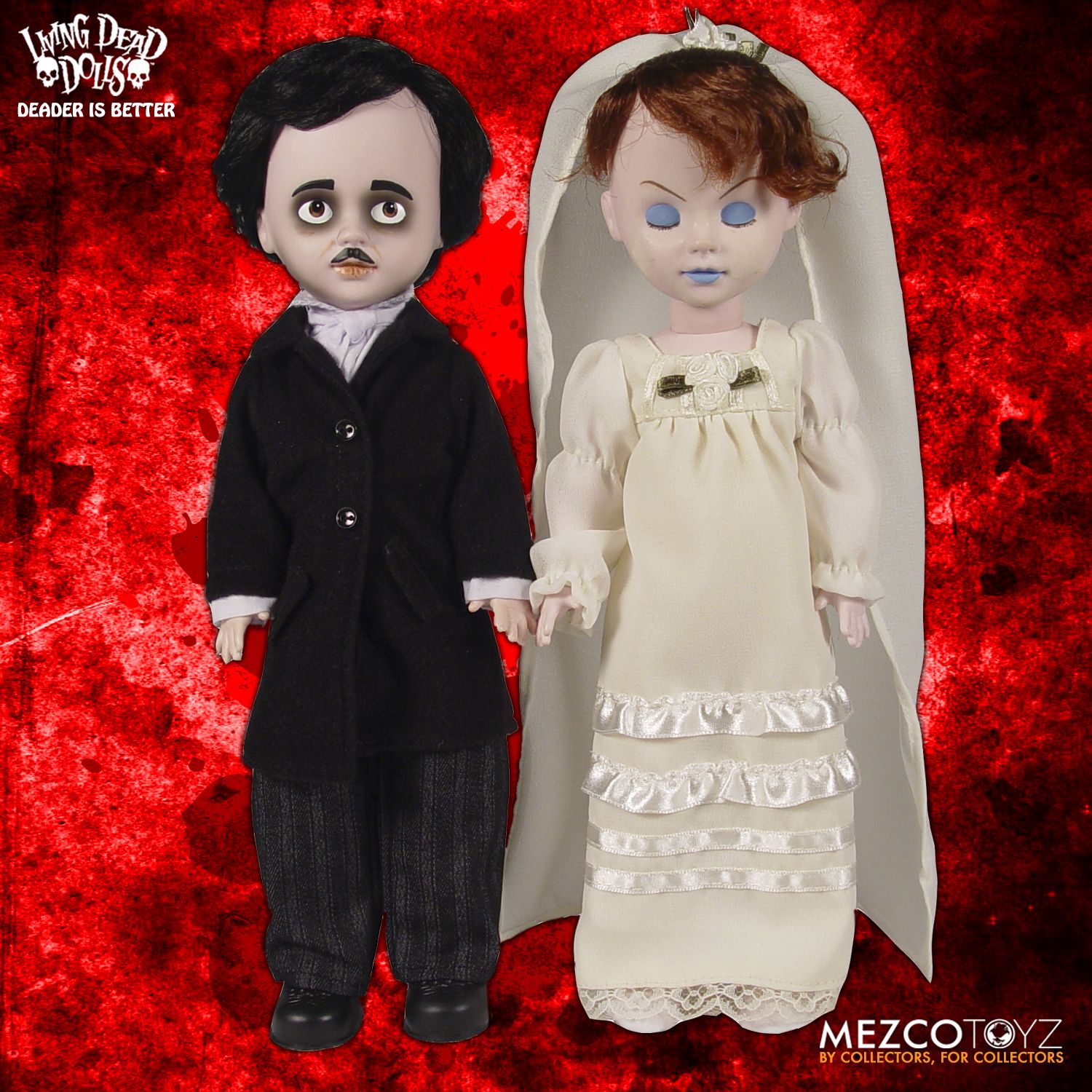 In 2007, the famed author and the namesake for his final poem "Annabel Lee" became available worldwide. Annabel Lee has an alternate face that glows in the dark. The pair also included a raven and a book of poetry.
Twisted Love- Violet & Rose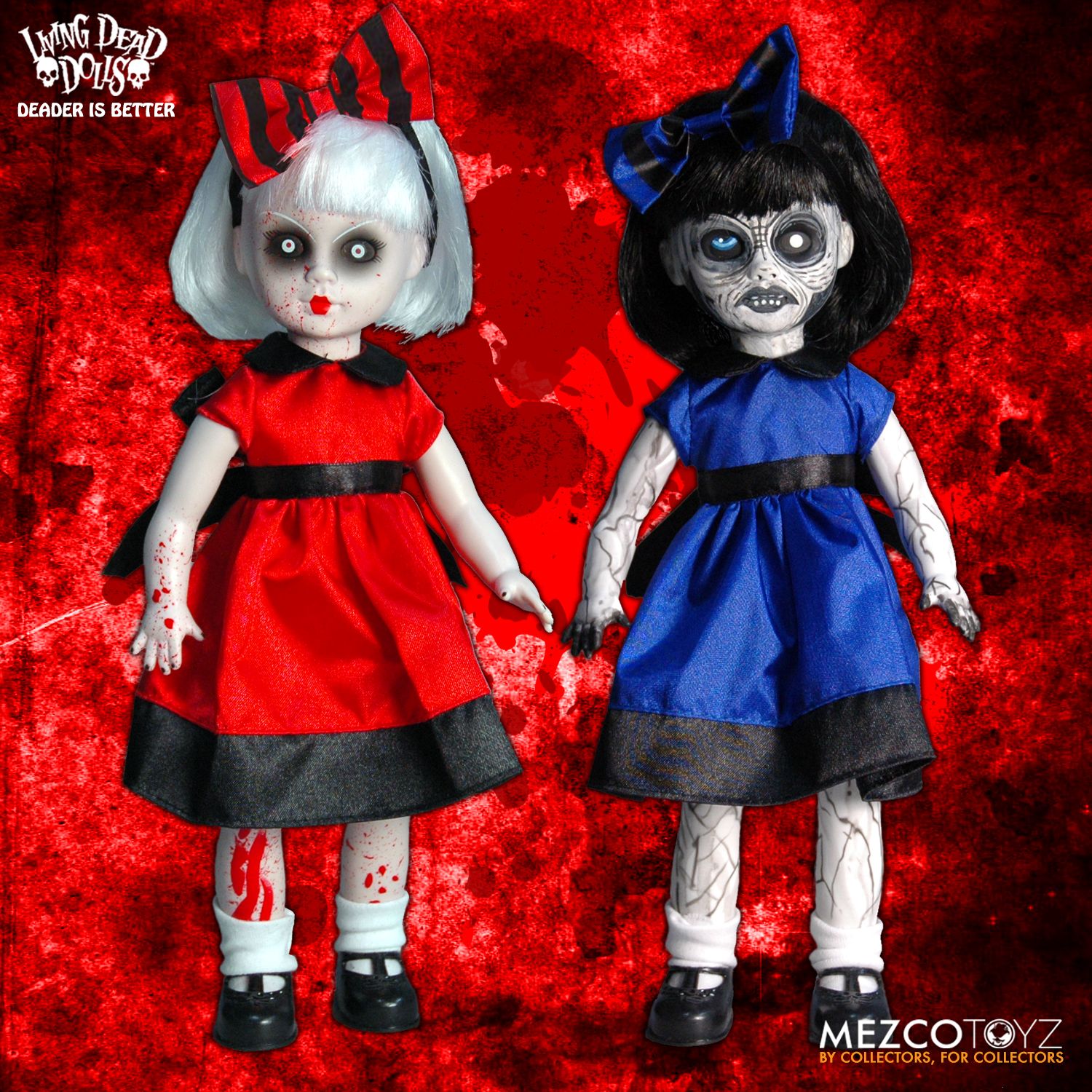 Released in 2010, each doll came with her own charm. Rose included a sword, and Violet had a heart. The charms could be combined and worn around the neck. Rose came in a red coffin, and Violet came packaged in a blue one. They are the only two-packs to have their own individual coffins.
Beauty & The Beast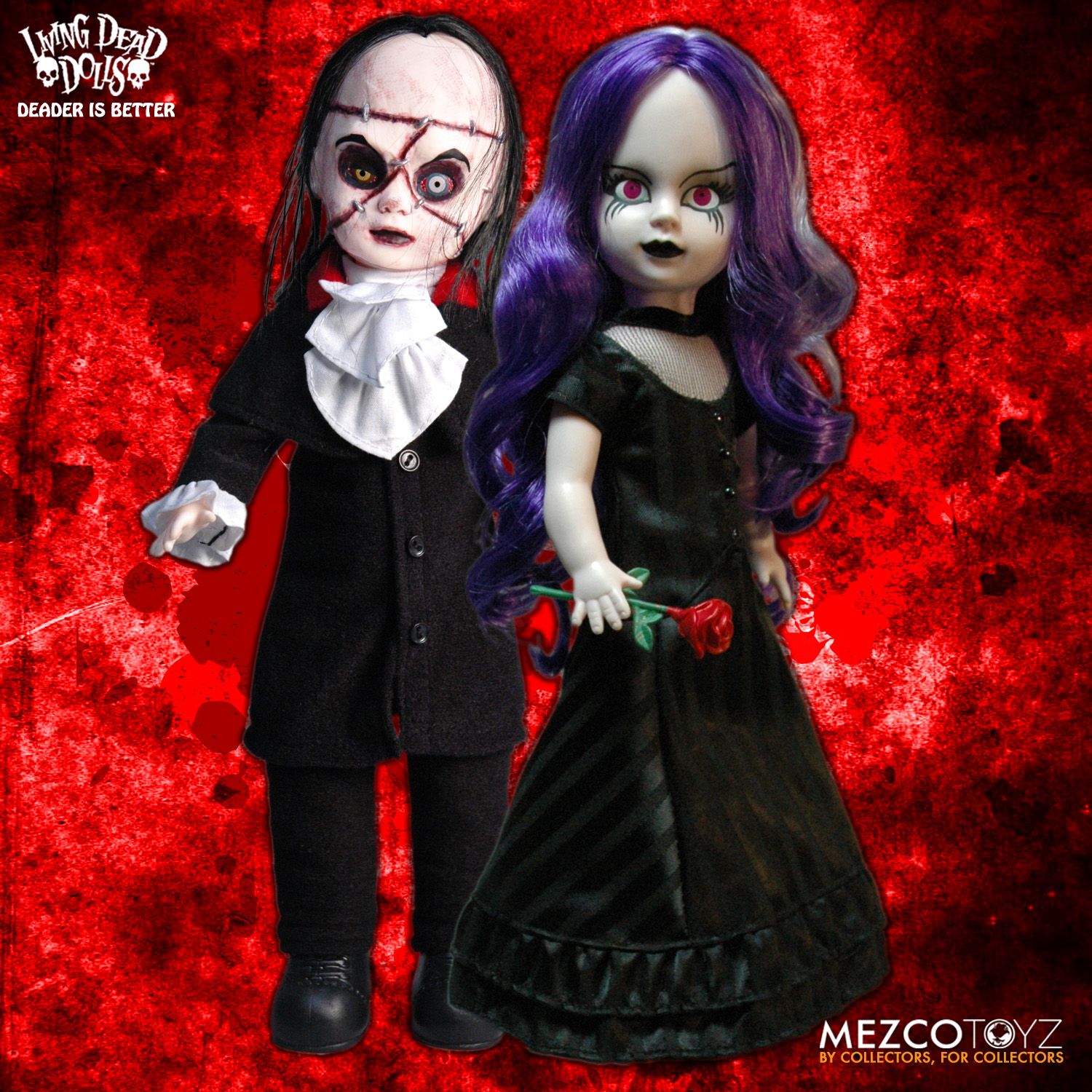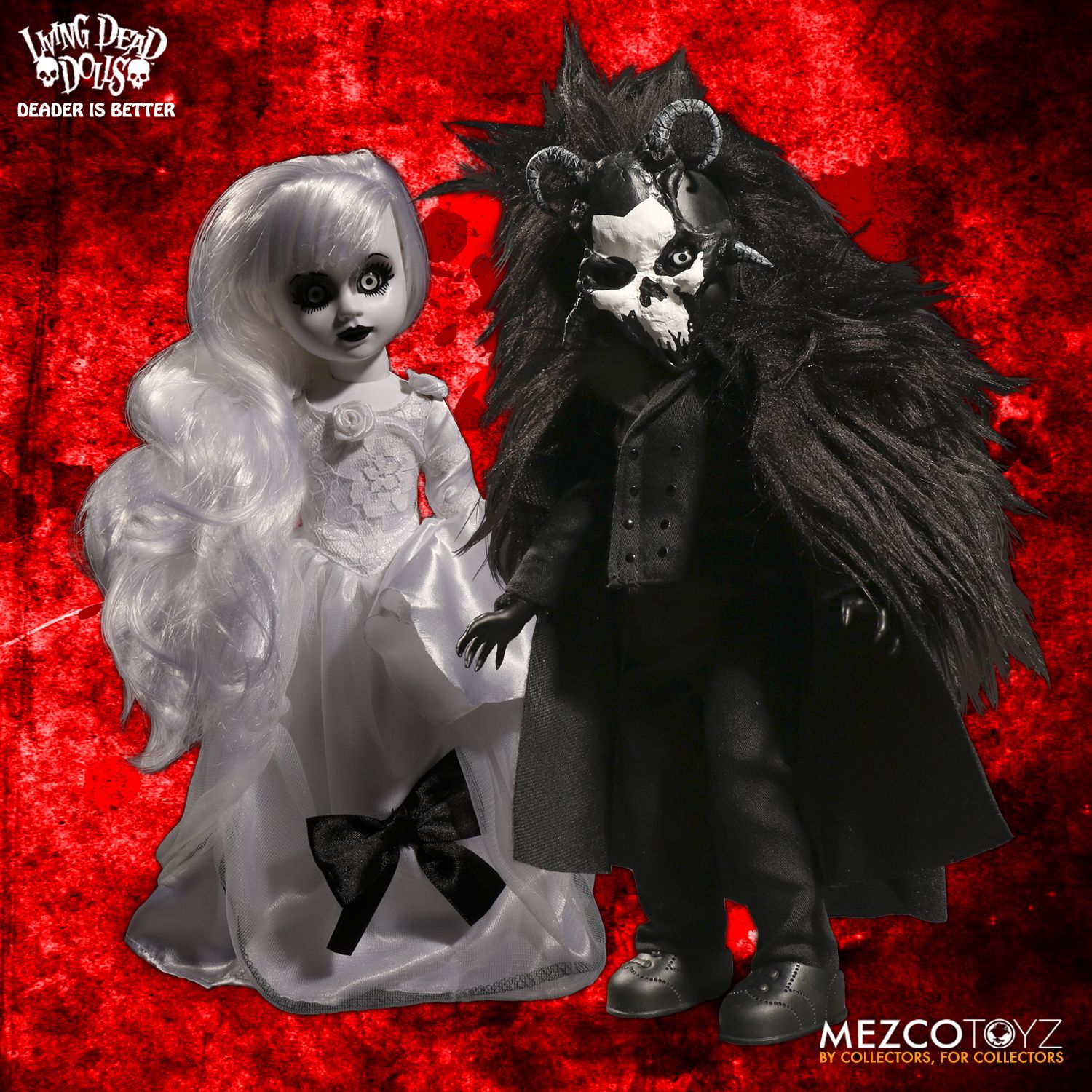 Beauty & The Beast arrived as a Scary Tales Vol. 2 addition in 2011. This gothic interpretation is emphasized by Beauty's long Victorian gown and the Beast's scarred face. The re-imagining was released in 2017 as a two-pack and emphasized Beauty's innocence as portrayed in the original fairy tale.
Rotten Sam & Sandy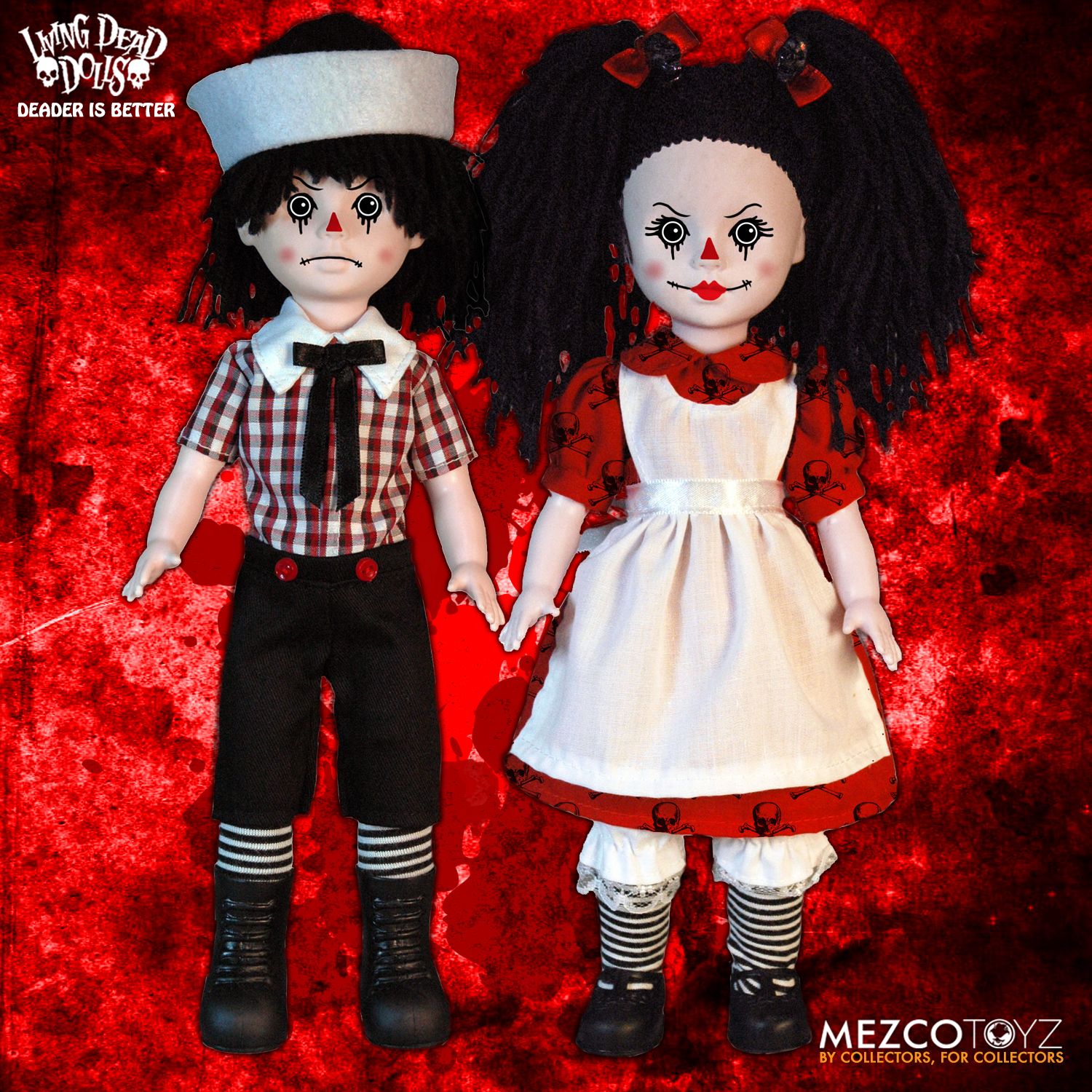 Rotten Sam & Sandy arrived in 2012. Reminiscent of classic rag dolls, Rotten Sam & Sandy are adorned with yarn hair and gingham clothing. Both sport coordinating red, white and blue outfits.
Who is your favorite LDD couple? Let us know on Facebook, Twitter, and Instagram.