Throwback Thursday - Popeye Product Retrospective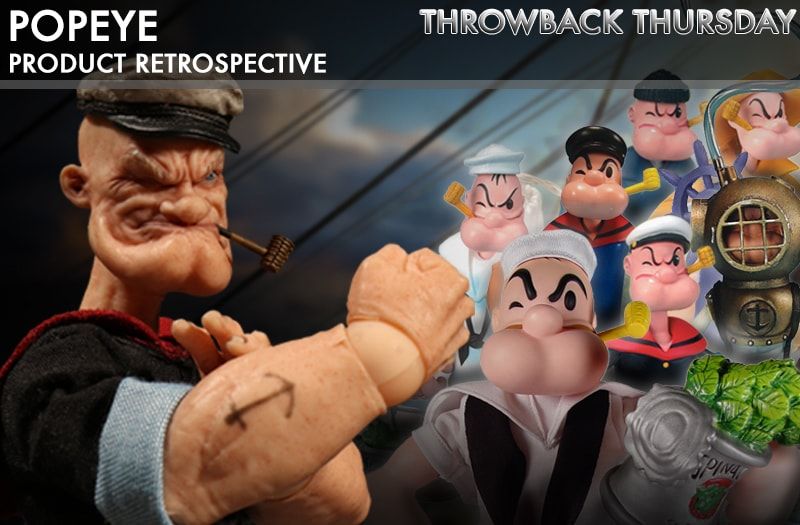 Well, blow me down! First appearing in E.C Segar's comic strip Thimble Theater on January 17th, 1929, Popeye is a comic and cultural icon who would go on to star in one of the longest running comic strips in syndication. With the addition of Popeye to our One:12 line, we look back on Popeye's introduction to the Mezco family. In 2001, Mezco Toyz began releasing a series of sculpted 5" figures across several series dedicated to the Popeye franchise. Each figure included an assortment of accessories, and even some bonus miniature figures. Other series featured 12" figures, three pack sets, and a black and white boxed set FAO Schwartz exclusive. Today we will look back on the first two series dedicated to our favorite sailorman.
Series One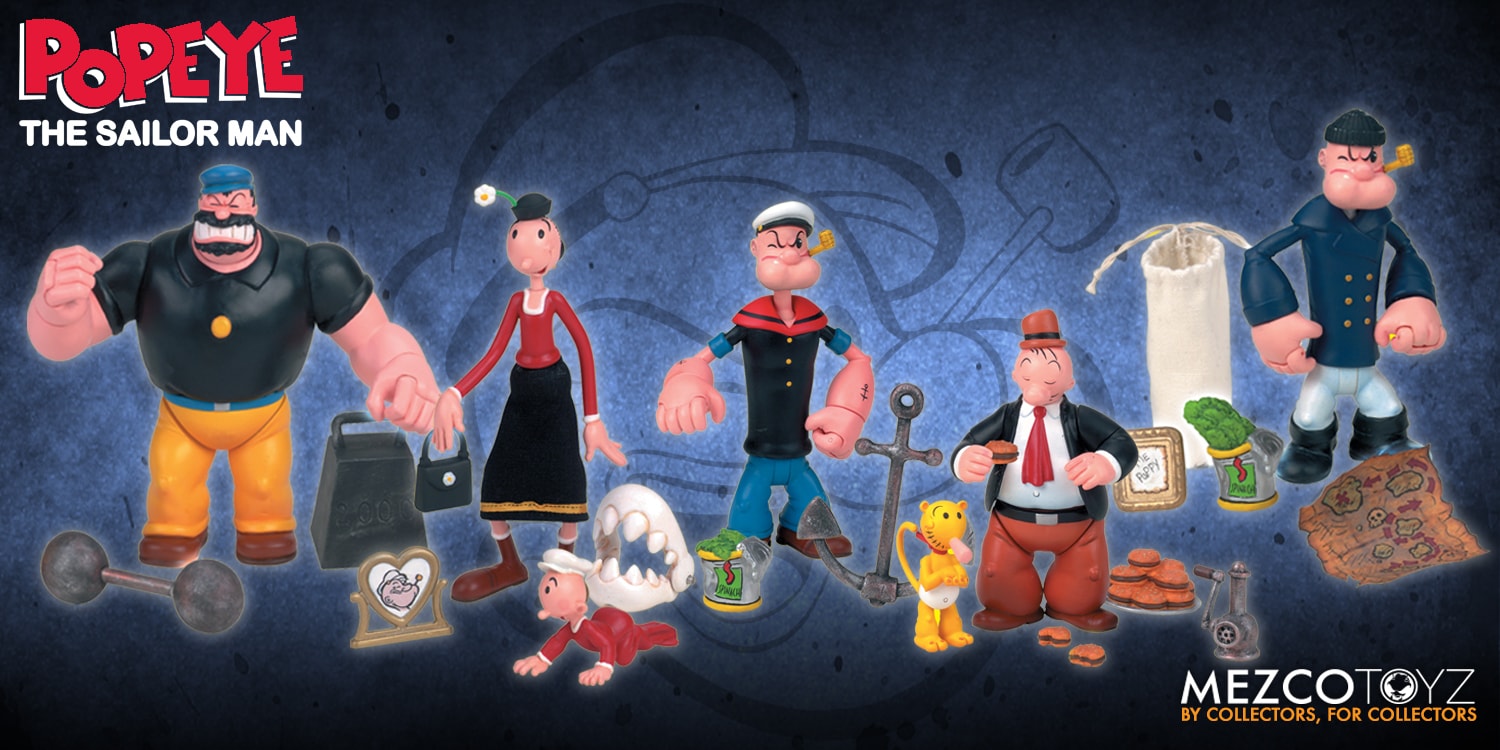 Classic Popeye featured a Sailor Wailer Round House Punch with articulated fingers capable of grasping items. Also included was a spinach can, anchor, shark's jaw, add-on muscle and removable hat.
A second version of Popeye featured his signature arm winding Twister Fister Punch. This Popeye came with a peacoat, spinach can, treasure map, stenciled duffel bag with Popeye's name, picture frame, and removable hat.
Love interest Olive Oyl featured a cloth skirt and bendy articulation in her arms and legs. Included were Swee'Pea along with a purse and a picture frame.
Nemesis Bluto featured an Underhanded Uppercut Punch. He also included a barbell and two-ton weight.
Wimpy (or officially known as J. Wellington Wimpy) came with his beloved burgers, a meat grinder, and Eugene the Jeep.
Series Two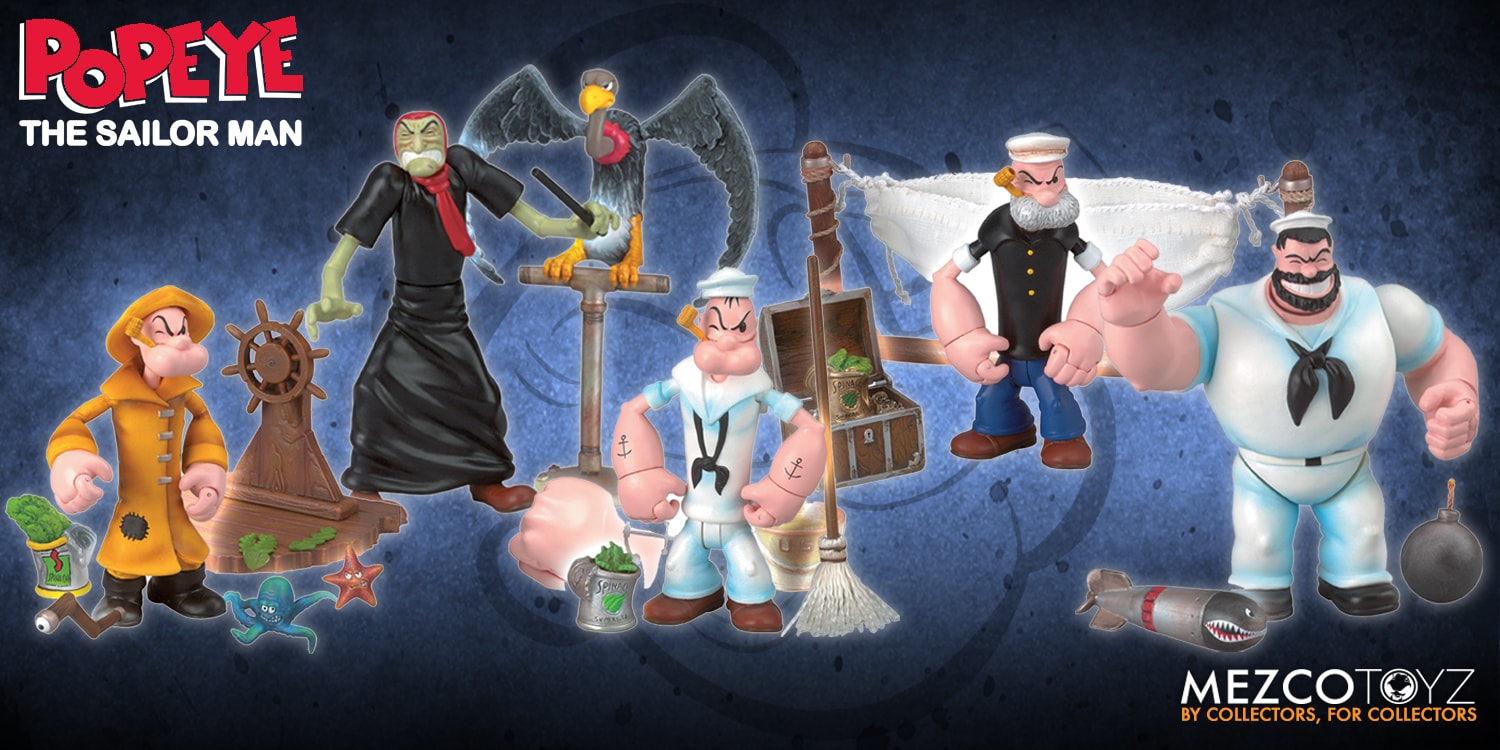 Sailor Popeye dressed in his Navy Whites scrubbed the deck with a mop and bucket. He also had his trusty spinach can with a pop-up feature, giant fist, and a removable hat.

Storm Gear Popeye braved the choppy seas with a shipwreck deck, telescope, octopus, starfish, spinach can, and removable hat.

Sailor Bluto proved ready for action with Torpedo Toss Action, torpedo and a bomb.

Popeye's father Poopdeck Pappy included a hammock, treasure chest, spinach can, and a removable hat.

The Sea Hag, Popeye's most frightening adversary, came complete with her magic flute, Bernard the Vulture, and his vulture perch.

With over 400 episodes, it makes sense that our love of Popeye didn't stop there. Check out the One:12 Collective Popeye here and good luck on those choppy waters.