A Toxic Interview: A Conversation with Eric Pigors of Toxic Toons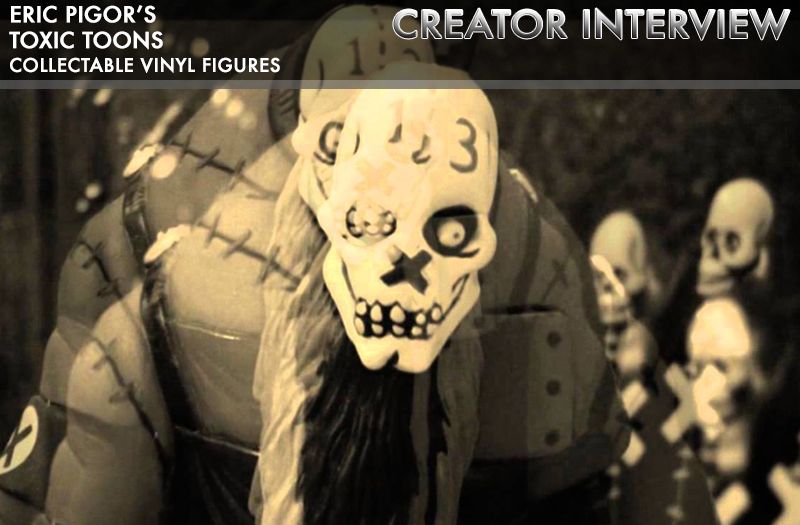 One of best parts about creating toys based of other brands is getting the opportunity to work with some of the artists behind it. Eric Pigors, the creative dynamo behind ToxicToons, as well an artistic contributor to a huge amount of popular animation was a pleasure to work with while creating a line based off his ToxicToons characters. For our Throwback Thursday, we're putting the artist spotlight on Mr. Pigors with a very intriguing interview.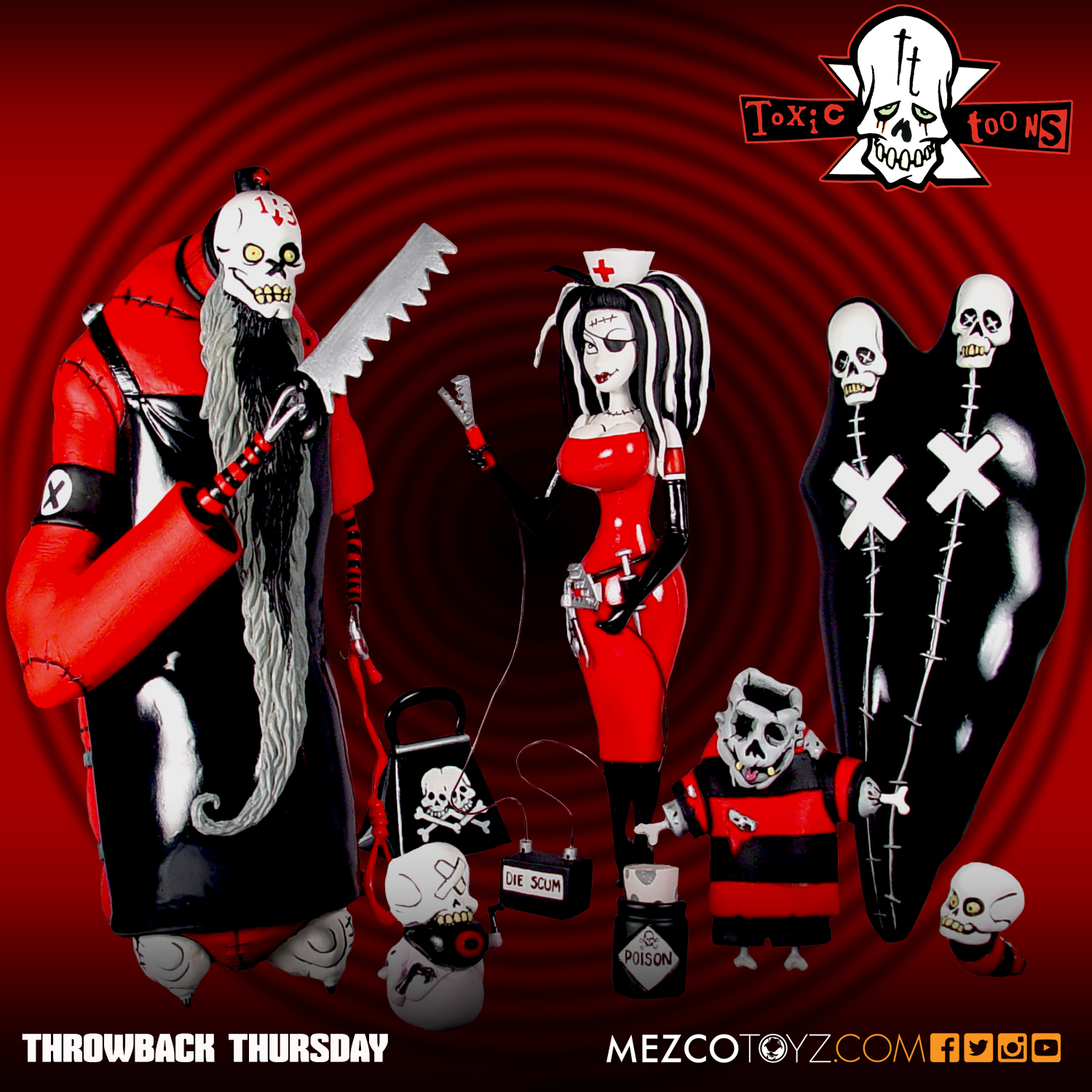 M- Eric Pigors... not everyone knows the name but they know your work. You spent over a decade at Disney working on some of their biggest and most beloved films. You were also part of the MTV's groundbreaking Liquid Television. How did you manage to have such a varied and successful career?
ERIC- I'M OLD! hahaha. And well maybe lucky too? Who truly knows how life works, and the events that collide in ones life at certain moments. But those are just a few memorable moments I had the pleasure to have happen to me.
M- Clearly, ToxicToons is the result of everything from Ed Roth to Tex Avery, but what was the moment when you would consider Toxic Toons actually being "born"?
ERIC – Probably when the name ToxicToons was created for a line of postcards I was creating to try to sell at an art gallery/toy shop in Hollywood called Wackos. It was my first merchandise I created with the name ToxicToons. I was on my balcony of my apt and spray painting backgrounds and began choking on this large cloud of toxic fumes and that's when the name came to me. Toxic from the fumes of the spray can and my art I draw is cartoons so I pieced them together. And TOXICTOONS WAS BORN!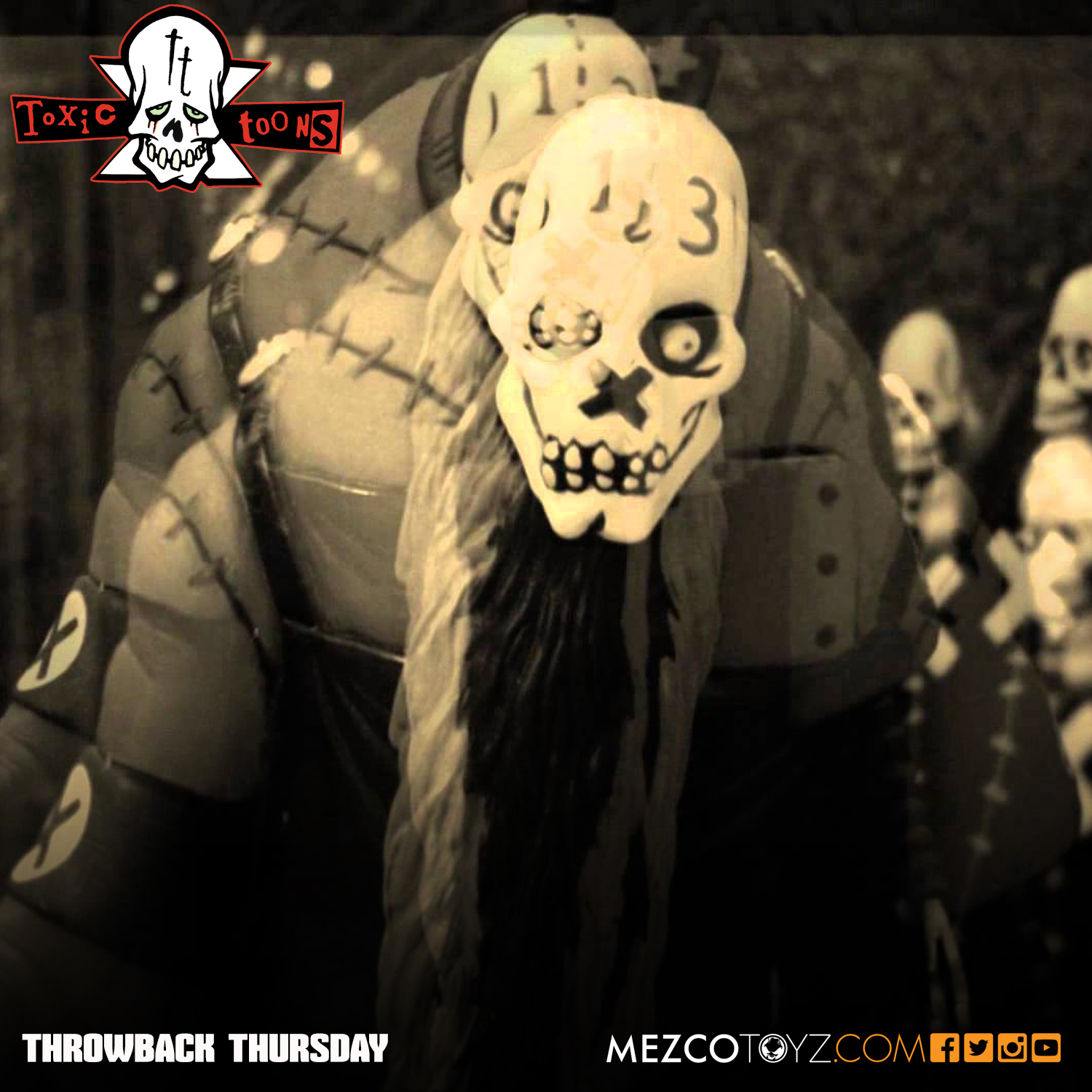 M- You attended art school. What advice would you give a young artist starting out today?
ERIC –Just do what your passionate about with your art,if it takes off and you can make a living at it that's great! If it doesn't happen, well you still had a blast being creative and that's what really matters. Being an artist for a living is a very hard way to get by. And I'm glad I chose this path. But there are moments as I struggle to get by some months where I think, "Hmmm should I choose a different job? Nah!" I will go to my grave doing what I love, even if I never get rich.
M- How long has ToxicToons been around and how has it changed if at all over the years?
ERIC: FOREVER hahaha! I came up with the name in 1990, and I have been doing my shirts and other merch since 2000. Well stuff I started drawing was a 'lil bit more weirdo freaks and monster art back in 1986. Now it's same, but lots of Sexy Vamps and Frankenstein art too! And cleaner and maybe better drawn.
M- At Mezco we are fans of your creepy cartoons, what draws you to the macabre?
ERIC - I grew up loving all sorts of weird art, Dr Suess, Odd Rods hot rod monster stickers, Rat Fink, PLOP Comics, MAD, The Munsters and Addams Family, Halloween. It all seeped into my brain back when I was young, and I guess in a way I never grew up. I'm still that lil boy/teen that was inspired by all that.
And I just incorporated it into what I draw....SPOOKY DARK HUMORED DEATH ART!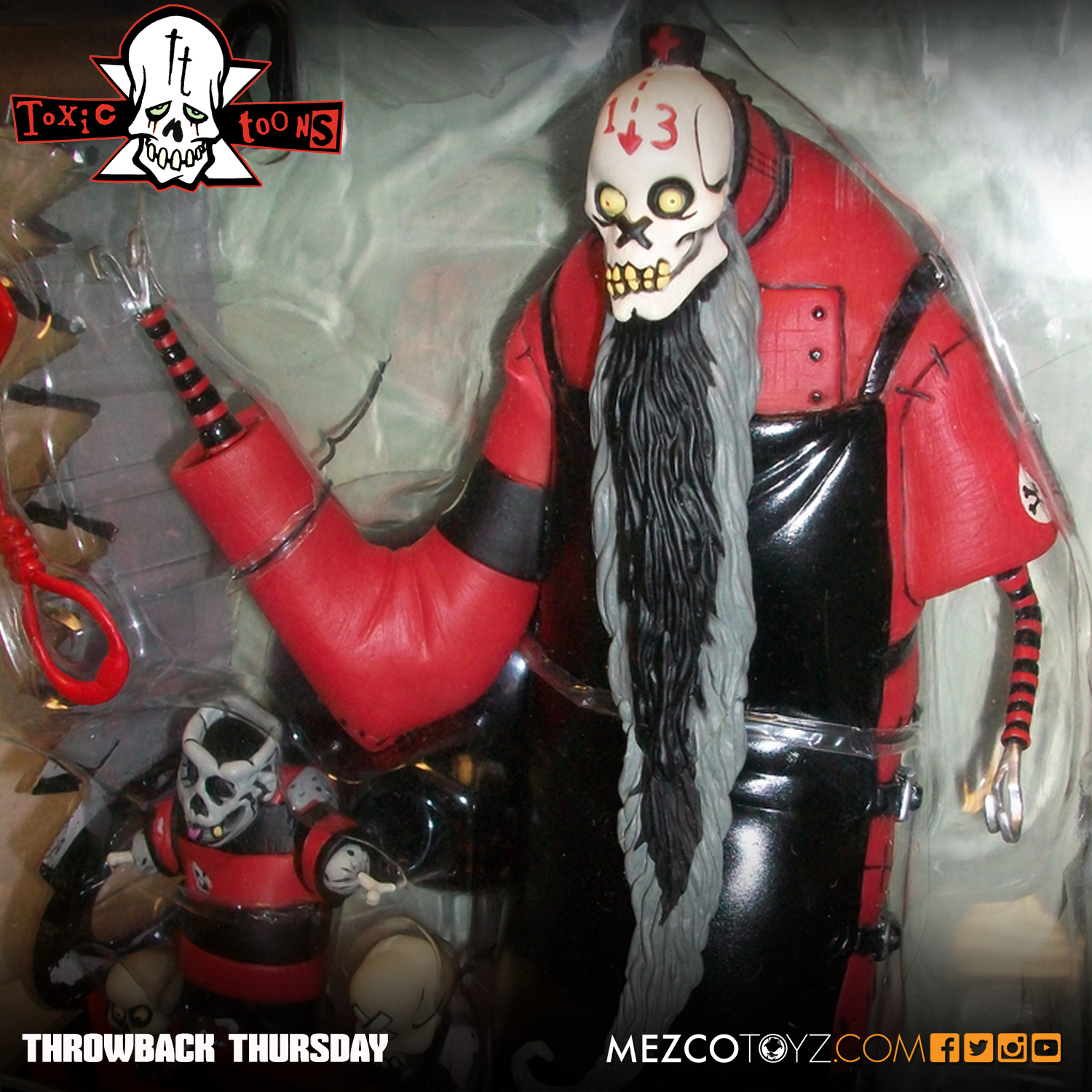 M- You worked on the Care Bears as well. Who is your favorite Care Bear?
ERIC – Well aren't they all the same Bear just a different color and symbol?
MY favorite one is Dead Bear, Oh that's not one? TOO BAD!
M- How did the idea of turning your
characters into figures start?
ERIC: Well you mean with Mezco?
I was at San Diego Comic Con, my 1st year selling my merch and Mez saw it and asked if I would be interested in doing something with the Addams Family characters. That didn't happen, then a few comic cons later he asked if I wanted to do something with them. I had just done a book called, GHOULISHLY GHASTLY DEADTIMES Stories" which I have only 20 copies left of then it's sold out. All my other books are sold out now! But the characters that ended up being in my LETS PLAY IN THE MORGUE set were in that boo-k.
M- What was your experience like working with Mezco Toyz?
Eric- It was fun, and I was super excited to do more after that set. But just that set was produced unfortunately.
I still have fans ask where they can buy them I say, Ebay. One fan's mom found a perfectly good Mortician Pox in their dump over in the UK. She said her son and she would go to the dump to find, toys, bikes, skateboards and she found this Mortician Pox toy that he fell in love with. She had no clue what it was until she looked underneath Mortician Pox and saw MEZCO/TOXICTOONS info. So she looked me up on the internet and sent me a picture of her kid with the toy he loved! Best story ever, the dump! How appropriate hahaha!
M- What surprised you most about turning your characters and art into figures?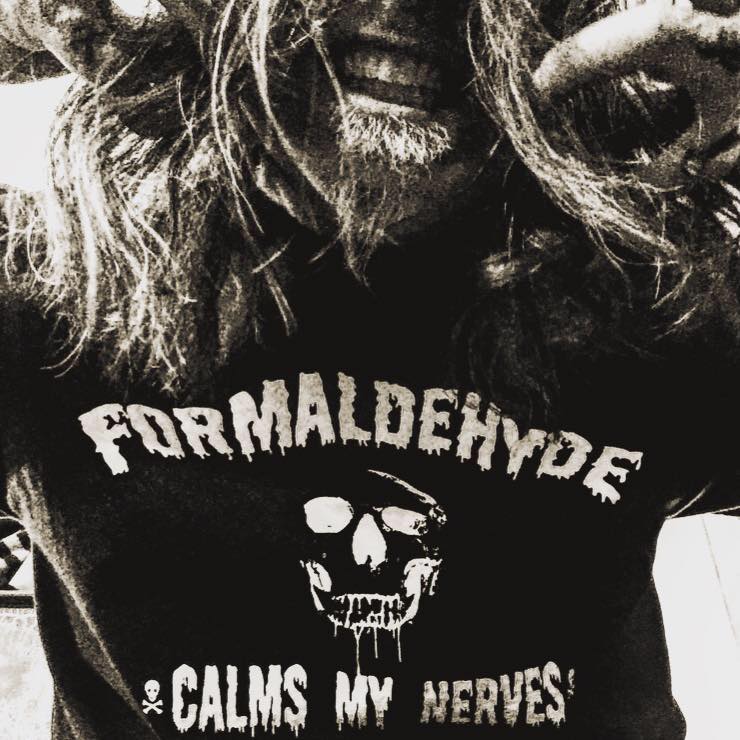 ERIC- How great my stuff looked as toys, it was super exciting!
M- Which ToxicToons Mezco Toy is your favorite?
ERIC- Mortician Pox, although everyone else loves Miss Cery.
M- Are you a collector?
ERIC- I collect mostly monster stuff, art, some toys, Halloween masks, Halloween records and old merch mostly.
running out of room and may have to sell off stuff if I have to sell my home this year?
M- You are a well-known fan of Halloween. What is your favorite Halloween memory and do you have any Halloween traditions?
ERIC -Yes, I spook out either my moms garage, my garage or last 3 Halloweens my friend Norman Cabrera's yard on Halloween. We dress up, spook out the kids, and then go trick or treating. Always funny watching parents reactions as me and Norman go down his street dressed up in costume with Pumpkin pails singing old Halloween songs.
My favorite memories are from when I was... 12? It was my last big trick or treating year. It was the 1970s and the streets where filled with hundreds of kids out screaming "TRICK OR TREAT!" Me and my friend Tom Cole and lil brother dressed up, got our pillow cases and were determined to hit every house in my neighborhood I grew up in.(By the way my mom still lives in that same house) and that's where I would do a lot of my Haunted Houses later in life as well as my 1st spookhouse I did in 1976. But that year I recall 2 houses that had a huge impact on me.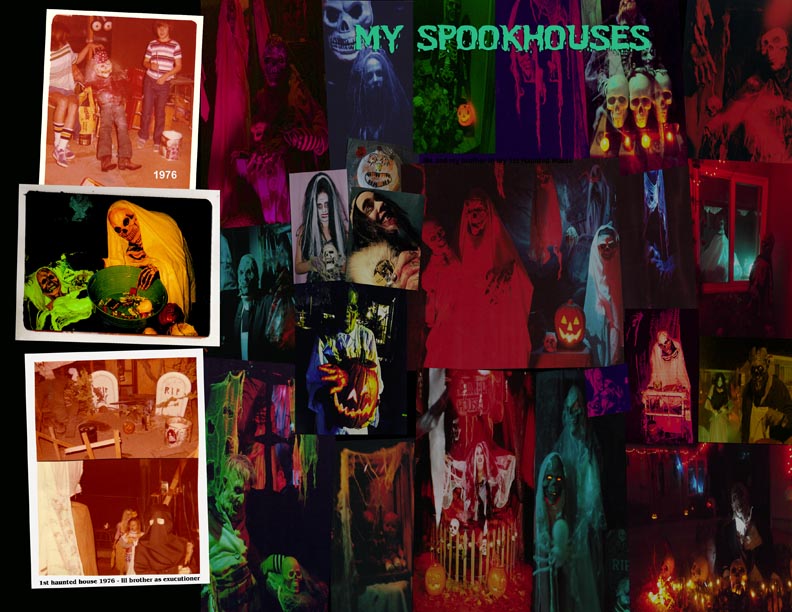 The 1st house was foggy and had guys dressed up as the Mummy, Wolfman, Dracula, and Frankenstein scaring kids. I was petrified to go to the door past them, but you had to they said to get your candy! When I left I was safe, and I was excited from the scare and the way their house was done as well as the cool looking monsters. HUGE IMPACT ON ME!
The 2nd house was playing the Disney Halloween Record (which I have 4 of now after breaking mine by accident after 1 play as a kid!) But my friend Tom and I had split up to run to more houses. I ran across the street to a 2 story house playing this spooky record in the garage .They had a gate I had to go through in the dark, and just a pumpkin was lit in their window. I slowly opened the gate and peered side to side waiting to see if monsters were hiding in the bushes ready to scare the candy out of me! Nothing, so I slowly went to the door, knocked, no one, knocked again, no one. So I left still hearing that Disney record playing thru their garage.
It was the 1st houses impression in my head making me scared about what was in this 2nd house. But that record is a favorite of mine. And if I am at my mom's on Halloween I now make a point to walk by that house and relive that memory in my head!
M- You have created some fantastic stuff with ToxicToons, can you tell us about other merchandise you have created?
ERIC- Thanks! I sell shirts (think I have done 300 now), books, stickers, SECRET SOCIETY OF FIENDS CLUB KIT, patches and now enamel pins. A few items KREEPSVILLE666 has produced, as well as 13 masks by TRICK OR TREAT STUDIOS.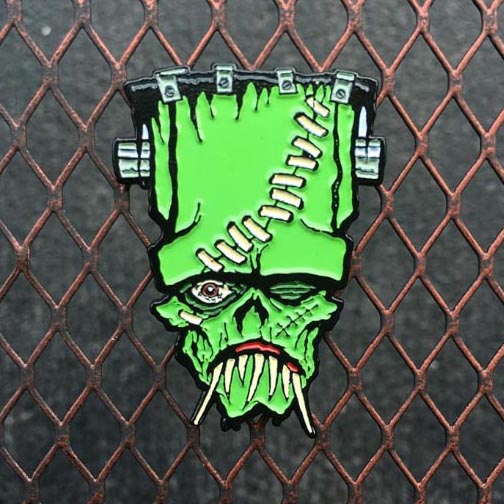 M- Between your shirts and hoodies and Halloween masks, what's the most unusual place that you have seen one of your creations turn up?
ERIC - Well the dump was one hahaha. Peoples skin, I see lots of tattoos. A fan came up to my booth at Texas Frightfair and I looked up see my shirt on him, and I said cool you have my shirt. Then I saw his arms and both arms where sleeved with my artwork. Extremely flattering and his tattoos were well done. I even saw one of my masks knocked off and shrunk down as a zombie toy at the dollar store one Halloween. Then a year later another of my masks got knocked off too!
M- What's it like to come home and have a message from Metallica waiting for you?
ERIC – Well it was my wife Denise who said, "I think someone from Metallica just called for you."
I was like "WTF! WHO? WAS IT JAMES? WAS IT KIRK? WAS IT LARZ?" I don't know? They just said they would call back at 8pm. So I sat by my phone then at 8pm ring ring. "Hey is this Eric?"
"Yah".
"This is James and Kirk and we just wanted to call you and saw we dig your artwork."
MY JAW DROPS TO THE GROUND! That phone call turned into me doing 2 shirts for the St Anger Tour, as well as James and Kirk wore my shirts a lot. James even wore one on the cover of Rolling Stone with Ozzy and Manson. Slash has also been wearing my shirts since 2014. Slash and I are both huge Halloween season and horror fans.
M- Your Haunted Mansion artwork is highly sought after by collectors. Many feel your glow in the dark Hatbox Ghost shirt is a "must have" item. Did your time at Disney draw you to the Mansion or was your love pre-existing?
ERIC – Well as a kid I recall seeing the Mansion when that sign was on the gate before it opened. The one saying they were collecting ghosts. My friend Tom Cole, his father worked for Walt Disney Imagineers and said he was going to build the Haunted Mansion in their garage. So every time I went to his house I peeked in the garage hoping to see him start it. He never did. But we did spooky stuff like we spooked out his bedroom to scare girls, we played Light as a Feather and Bloody Mary. I even went to Disney studios with their family as a kid to see Herbie the Lovebug, but first ate pizza down the street and looked through George Barris shop windows to see the Batmobile and The Munsters Koach. Funny I would end up working at Disney then have an art show at Barris' son's gallery next to his dad's shop too.
Oh and that Disney Halloween Record I broke, well here is that story.
Tom came over to my house one day, he was at the front door and I said wait until you see what I got! I ran to my bedroom grabbed my Haunted Mansion Record ran to the show Tom and said "LOOK WHAT I GOT!" as I flung up my arm watching my only played 1 time record flying out of the jacket and smash to pieces on the floor! NOOOOOO! My mom didn't buy me another. So I now have 4 hahaha, and funny thing I went to my swap meet yesterday and saw another I got for only 50 cents!
I went to my mom's and showed her it, I said "I got this for 50 cents I can easily sell it for $20." I said, "remember when I broke it as a kid?" she didn't of course! But I said I now have 4 of them.She said"you need more money sell it!" UGGH! But I still am sort of amazed I figured out how to do that glow-in-the-dark Hatbox Ghost shirt to glow like the ride, so his heads in the box when its glowing.
To learn more about Eric Pigors, ToxicToons and his work check out his official website at his official website