New York Comic Con: 2017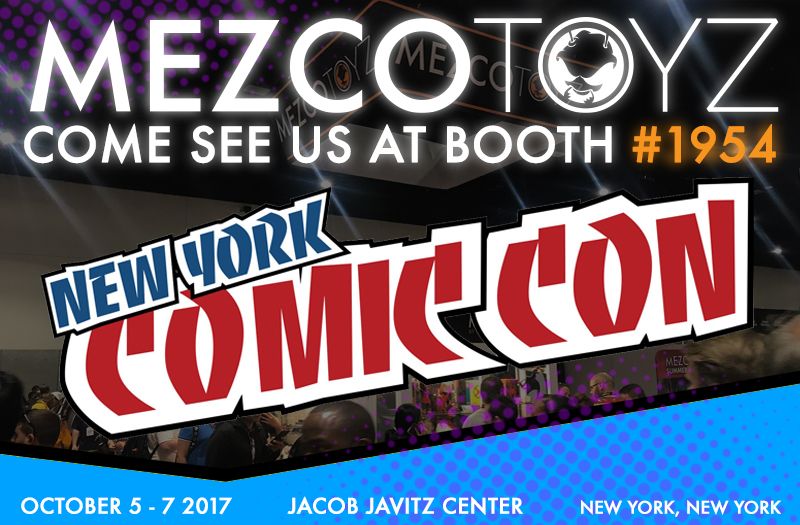 In just a couple of weeks the largest East Coast based pop culture event will once again descend upon The Jacob Javits Center in our home town of New York, so of course we'll be there! Celebrities, panels, comic artists and writers, cosplayers, fans and just jam packed with geeky goodness. New York Comic Con takes place from October 5th to October 8th, and we can't wait to check out the action.
If you're attending come stop by our booth, #1954. We will proudly be displaying tons of upcoming products as well as selling our Fall exclusives while supplies last. That includes our One:12 Collective Fall Exclusives: Wolverine and Red Skull, as well as our new annual Halloween Living Dead Doll Sweet Tooth. Try and get them quick as we never like telling a fan or customer they are all gone, but it happens.

To make your NYCC 2017 extra special, Mezco is offering a FREE lanyard, laminate, and pin with every purchase of $20 or more (while supplies last). The perfect Con going fashion choice, our Mezco graphic lanyard, laminate "VIP Badge" and enamel pin will make your convention profile a bit more snazzy. This limited edition trio is only available at Mezco booth #1954.
With dozens of amazing panels, celebs, industry "rock stars" and hundreds of booths showing off the latest in pop culture, comic and entertainment - how can this not be awesome?
With less than two weeks to go, we're beaming with excitement for NYCC 2017. If you're attending the show we'd love for you to come stop by our booth, #1954 and say hi. If you can't make it this year don't worry, we'll be keeping you updated over social media throughout the entire weekend.